Overview:
It's seldom when shooting outdoor wildlife images when the light catches the scene just right. Most of us spend more time in programs like Photoshop tweaking photos and making adjustments than we do in the field taking photos. It is for this reason that I have started a lighting templates folder on my hard drive. These templates are grayscale images that can be blended onto a photo image to adjust the lighting or add lighting effects, such as streaks and even fog effects.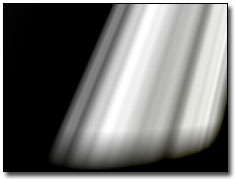 We can add the template image on the right to an image in Photoshop and change the blending modes to get various lighting effects. Using the Screen mode gives us the most natural looking light, while overlay will give us a lot of contrast. We can also change the opacity of the lighting template to make our effect subtler. We can use some of the other modes for wilder effects and even use color templates instead of grayscale for wild lighting and visual effects.

The templates can be useful and time saving for many photographs, but many will require custom effects. To do creative custom effects I will create a new layer and set the mode, usually Screen for the natural lighting. Then I will use the Airbrush with a low flow and opacity to 'brush' light where I need it using a white paint, or, use a black paint and brush in shadows.

As you can see, there are many ways to skin a cat. The various techniques will give slightly various results. By learning as many as you can it will give you a wide range of effects than can be easily achieved for some very cool effects, and, in the end, some very cool photos.
My Outdoor Eyes Photography Blog
The Pink Water Willow Wildflowers Are Blooming By Cape Cod Waters!
The Water Willows are in full bloom near the waters and swamps on Cape Cod. You can see them on the boardwalk on The Red Maple Swamps Trail at Fort Hill or going over the bridge on the Silver Spring Trail at the Wellfleet Bay Wildlife Sanctuary. They are so pretty and so unique. (Click … Continue reading The Pink Water Willow Wildflowers Are Blooming By Cape Cod Waters! →


Red-Spotted Purple Butterfly In Provincetown On Cape Cod!
I had a little extra time on my way to Provincetown, so I stopped at the Beech Forest Trail to see what I could find. Oh my! Thank goodness I brought my camera! There were birds, butterflies and dragonflies galore! And I didn't even have to walk more than 10 yards. Wow! (Click on blog … Continue reading Red-Spotted Purple Butterfly In Provincetown On Cape Cod! →


Beautiful Early Morning Reflection At Rock Harbor On Cape Cod.
I loved this reflection of the boats at Rock Harbor early the other morning. It was about 6:00 am and low tide so the boats couldn't go out yet. There was no one else around… perfect! So pretty, don't you think?