Sometimes the rubber stamp will not remove the blemishes from your photographs. There is another option available to quickly remove those blemishes. The photographs above show a before (with the scratches marked with a square box) and after (with the blemishes removed). The rest of the photograph has remained the same.
How To Remove A Blemish
Note: The history brush will not work properly if the photograph is resampled or the image size has been changed. The snapshots that are indicated below are not saved when the finished photograph is saved.

1. Open the file. Choose File --> Open --> Enter the image name to be fixed.
2. Hold the Ctrl Key down and hit the + key a few times to zoom the image to 100%.
3. Choose Filter --> Blur --> Gaussian Blur. Move the photograph displayed in the Gaussian Blur screen so that a blemish is shown in the screen (A). Move the Radius Bar to increase or decrease the pixels until the entire blemish disappears (B).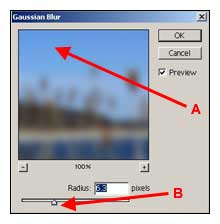 Click OK. The history screen will display the gaussian blur as shown below (C).

4. Click the camera located on the bottom of the history screen (D). A snapshot of the photography will appear named as Snapshot 1 (D).
5. Select the history brush from the tool box and choose the brush size needed. Use the smallest brush as possible.
6. Click the box on the left side of Snapshot 1 (E). Select duplicate layer on the history screen (F).
7. Slowly paint with the history brush the blemishes that you want to remove.
8. You can add additional snapshots at any time if your image needs additional editing.
9. Save the image.
My Outdoor Eyes Photography Blog
Beautiful Trail To Duck Harbor Beach In Wellfleet On Cape Cod.
The trail to Duck Harbor Beach on the ocean side of Wellfleet was just magnificent. We had never been there before. It's a short walk over the dunes to the beach where the views of the ocean are breathtaking. You can also see Provincetown in the distance to the right. Just beautiful, don't you think?


The River Pier On Cape Cod¦ Which Perspective Do You Like Better?
I couldn't decide which perspective of the 2 photographs I liked better of this pier on The River in Orleans.  The River is connected to Meeting House Pond, which is a great area to paddle kayaks into Little Pleasant Bay. What do you think?


Pamet Trail In Truro On Cape Cod Is A Favorite On The Alltrails App.
  Pamet Trail is one of our favorite hikes in the Truro area on Cape Cod. There is so much diversity from scrubby bushes and trees to pine forests to sand dunes overlooking the ocean to cranberry bogs. (There are additional photos and a map at the end of the blog.) There is a bit … Continue reading Pamet Trail In Truro On Cape Cod Is A Favorite On The Alltrails App. →