When one thinks of showy fall foliage, the East Coast and its classically colorful landscapes often come to mind.


Autumn marks a time of vast seasonal changes, as the temperature starts to decline, the rains begin to fall and the leaves transition to vivid hues of red, orange, yellow and gold.

The East Coast isn't the only spot for foliage follies, though. Plenty of color can also be found on California's North Coast. Just take a leisurely drive between Benbow and the Oregon border or to areas inland from there and anyone can partake in a visual treat of stunning autumnal tones that adorn the landscape as maples and madrones, buckeyes and birch head into the winter months.

"Fall is one of those simple one syllable words that packs a wallop. It is when the leaves of deciduous trees turn color and drop off," horticulturist Terry Kramer wrote in one of her North Coast Gardening columns that appeared in the Times-Standard last year.

"This is a dramatic event in the life of a tree, the shedding precipitated by shortened day length, warm days and frost-nipped nights," Kramer explained. "Leaf drop begins when the tree responds to these events by creating a shield of specialized cork-like cells where the leaf stem joins the twig. As the leaves become sealed off from the tree's circulatory system, they begin to die and fall. Where a tiny wound is left at the point of separation, the tree produces another layer of specialized cells to protect it from moisture and disease.

"And while all of this is happening," she noted, "the leaves of many deciduous trees, especially maples, turn fiery colors, enhancing the beauty of this change of life. For instance, the sugar maple's green leaves are full of orange and yellow pigments all along. It is just that the chlorophyll green floods the leaves during spring and winter. But, when the leaves become sealed off from the tree's circulatory system, the chlorophyll breaks down and the hidden pigments are then revealed."
-- Outdoor Eyes Daily Blog --
Gorgeous Sunset At Boat Meadow Beach On Cape Cod.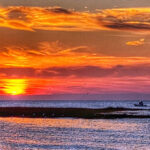 This was such a gorgeous sunset at Boat Meadow the other evening. I love the vibrant yellow and orange colors with the birds in the sky and the fishing boat out in the water. The little cloud in the sky on the right almost looks like a fish swimming by. Such a pretty evening.


VISIT THE OUTDOOR EYES BLOG