A disturbing trend of back injuries has caused many individuals to consider the following backpacking tips in order to keep themselves free from aches and pains. This injury trend is especially high in school aged children, adolescents, and teenagers, who are experiencing more back, neck, and joint pain than ever before. However, adults, especially those that carry hunting backpacks and camcorder backpacks. For this reason, pediatricians and orthopedics alike are warning parents and youngsters about the harm of heavily loaded backpacks. Consider the following tips to ensure that you avoid aches and pains associated with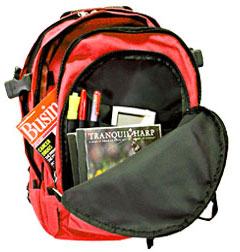 backpack use in order to keep your back happy and healthy.

Tip #1 – Two Straps for Double the Support

Since backpacks are designed to be worn on both shoulders, it is imperative that anyone who dons a backpack takes advantage of both straps. The trend of slinging a backpack over one shoulder may appear cool, but the aches and pains associated with this lopsided wear will have the individual singing the blues. For this reason, be sure to wear backpacks as they are intended to be worn. Additionally, backpacks (including waterproof backpacks) worn on the front can cause the individual to strain muscles due to the awkward angle. For this reason, keep the backpacks on the back as the bags are designated. Also, although messenger bags are increasingly popular, studies have shown that backpacks with two straps provide much more support and decrease the likelihood of injuries or pains.

Tip #2 – Stop Overloading

Doctors firmly believe that the weight of a backpack's load should not exceed 20 percent of the individual's body weight. For this reason, it is imperative that individuals carefully watch what they put into their backpacks in order to prevent overloading. To counteract overloading, consider choosing a rolling backpack. These backpacks on wheels allow the individual to carry the necessary load without risking damage to his or her body. Wheeled backpacks are increasingly popular with school children, who find themselves overly burdened under a bulk of books and school supplies.

Tip #3 – Proper Adjustment for Comfort and Safety

Properly adjusting the backpack is by far one of the most important of the backpacking tips. The pack should be adjusted so that it fits the dimensions and size of the individual wearing the backpack. Although it may be trendy to wear the backpack low on one's back, this adjustment could be potentially dangerous when it comes to causing injury. Similarly, wearing a backpack positioned too high on the back can potentially cause injury, aches, or pains

Tip #4 – Proper Padding for Larger Packs

Backpacking has always been a popular trend with travelers. Whether you are heading to the culture of Europe, the beaches of Thailand, or into the backcountry on a trek, having the right backpack will make all the difference. Fit is a huge concern when it comes to these overly large backpacks, as is support. You should be sure to choose a backpack that has a waist strap that fits low over your hips. This strap is important, since it allows the bulk of the pack's weight to be supported by your hips in addition to your back. These support systems encourage comfort and safety. Also, choosing backpacks with thickly padded backs and straps will ensure that you will not be burdened by your backpack.

Tip #5 – Lighter is Better

For the average backpack, especially school backpacks, light weight materials are preferred over heavier material. Canvas or mesh will produce a more comfortable wear than backpacks made of leather. Keep in mind that weight plays a huge role in the backpack, so having a lightweight material will allow you to carry more items in the pack's pouches and pockets. By choosing a backpack with a variety of pockets will increase the organizational aspects of the bag in addition to allowing the weight to be evenly distributed for maximum comfort.

By following these fantastic tips and choosing the best backpack for you, the risk of injury is severely decreased. Furthermore, you will be able to choose a backpack that best fits your wants and needs so that you have the right equipment for any task - whether it is a day hike with the kids or a year of traveling abroad.

About the Author: Scott Gray is a freelance writer and outdoor enthusiast who loves to provide useful information about the different types of backpacks including hiking and the best school backpacks.