With jobs that offer too little vacation time to satisfy our lust for travel and outdoor adventure, there was only one thing for my wife and me to do: Quit and travel the world! We pre-arranged international flights, but little else. Our year-long travel itinerary was so diverse that constant culture shock was certain. Using a portable CD burner we periodically sent home batches of our 11,000 photos.

Panama:
You don't have to risk your life with the drug runners in the remote Darian to see Panama's wildlife. One of our best hikes was just outside Panama City, on a dirt road near the Panama Canal. We had barely started walking when a flock of parrots flew overhead, squawking and frantically flapping their wings. Another few hundred meters on: toucans, looking like they flew off a Fruit Loops box. Later, another great bird, sitting motionless on a branch, with feathers of every color and tail feathers shaped like upside-down lollipops.

Egypt:
Tourists have come to Egypt to marvel at its archaeological sites for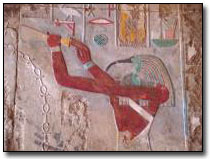 centuries. For good reason: they were magnificent in every way. Just outside Cairo the enormous pyramids and sphinx of Giza dominated the vast Sahara backdrop. The state of preservation of the 4000-year-old hieroglyphic carvings and paintings on temples and tombs throughout the country was remarkable. Egyptians were extremely eager and clever about getting their piece of the tourist pie. It seemed impossible to really get to know anyone. Just when you thought you'd made a friend, you realized you'd fallen into a scheme to get you into a carpet or perfume shop.

Norway: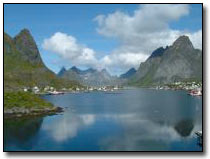 One hundred miles north of the Arctic Circle over summer solstice, we become worshipers of the midnight sun. On several hikes in the chilly, wee hours of the night, the sun was low in the sky but never dropped below the horizon. Sheep romped, oblivious to the strange hour. After our 2 a.m. hikes it made little sense to get place to stay, especially at Norway's staggering prices. So we'd pull our hats over our eyes and sleep in our car, warmed by the midnight sun.

Botswana:
The !Kung Bushmen of the Kalahari Desert were small in stature with high cheekbones and skin the color of dark honey. The men wore only an antelope-skin loincloth and the women, little more. From their appearance, it was difficult to judge their ages and, as it turned out, even they didn't know their ages. Linguists have noted the distinctive clicking sounds of their language with exclamation points. On a stroll through the bush, they showed us their way of life, including medicinal plants, edible caterpillars, and insect egg "sweets." One of the men quickly fashioned a thin but strong piece of rope by twisting fibers from a few nearby leaves. He tied it around my wrist for good luck, and I clumsily thanked him: "!Gingu !Aha."

Madagascar: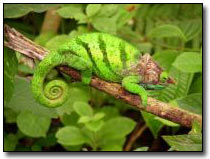 Perhaps the stars of the incredible wildlife in Madagascar were the 'dancing lemurs.' These endemic, tree-dwelling primates must occasionally cross an open patch of land to reach the next tree. Their comic movements to accomplish this were like a child skipping along trying not to spill cups of water in each hand. Our favorite video clip from the trip!

India:
By happenstance in far north India we joined a re-enactment of a silk route caravan. In centuries past, traders from all over central Asia traveled with pack
animals across the Tibetan plateau and Himalayan passes into Ladakh, India. Our caravan comprised locals dressed in Tibetan costume, a few tourists, yaks and donkeys, fabulous double-hump camels; and unruly horses and ponies. We rode in the dry, dusty floodplain of a silty, braided river through a broad valley surrounded by steep, utterly barren, gray peaks. Each village the caravan passed through put on an elaborate show with slow dancing, high-pitched singing, and hypnotic music from brass kettle drums and "snake-charmer" horns.

Thailand:
The Asian headquarters for backpacker-type travelers is Khao San Road in Bangkok. By day, this quarter-mile-long street was busy with travelers looking for budget accommodations, counterfeit designer cloths, and bootleg CD's and DVD's. By night, party-ers spilled into the street. You could be in Anywhere, USA, if it weren't for the pushcarts selling fried grasshoppers and grubs.

Indonesia:
At 9 a.m. it was already hot and steamy on Bali. A man wearing a sarong
belted with a sash and a triangular 'udeng' headcloth approached the stone shrine beside our bungalow. He carried a platter of offerings to be placed all over our hotel grounds. Each offering was a little tray woven from palm leaves and filled with flowers, rice, crackers, fruit, and incense. The incense smoke carries the essence of the offering up to the gods. After the gods have received the essence, humans are free to consume the remnants. Perhaps this explains why offerings sometimes contain cigarettes and beer.

New Zealand:
There were more colors of water here than I ever knew existed. Sulfur and iron deposits in the steaming, geothermal lakes of Wai-o-Tapu colored them yellow, red and orange. Near a deep-red crater in volcanic Tongariro National Park were the three Emerald Lakes, whose suspended glacial silt imparted their gemlike color. At Silica Springs silica oxide coated the rocky stream bottom chalky white. The dreamy turquoise shades of the Tasman Sea seemed to float our kayak heavenward. A side trail from the famed Milford Track took us to Sutherland Falls. Tumbling 1,900 feet, its water exploded into froth and sent us great waves of cold spray and wind.

Samoa:
In the Samoan way, our meals were communal. Discussion among travelers turned to: What makes Samoa so relaxing? For one thing, there wasn't much to do or see. And one tended not to move around much because local buses were infrequent. I think the main reason, though, was the accommodation: The Samoan beach 'fale' was a small, oval structure with an elevated bare wood floor, palm-leaf roof, and open on all sides. Inside, there is no furniture, only a woven sleep mat. After three weeks of fale living, we reached new heights (or is that lows?) of relaxation.