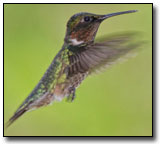 Sometimes one can't get outdoors but still want to take pictures of animals and birds.

For instance, sometimes I can't move too well so I'm confined to a chair by the window. I have my camera near me on a table, bird feeders about 10 feet from the window, and a stump set up 3 feet from the window. Sometimes I will have the camera on a tripod, with a remote cord, set up near the window, prefocused. When a bird lands on the stump and I know it is in the prefocused spot, I start taking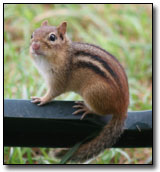 pictures with the remote cord. Having a camera take can take 5 frames helps, because sometimes one can get an unexpected good shot or get one out of 5 good shots. It is not often that I can get 5 good shots in a row because the bird does move around and end up with a shot with no bird in it, if he is so quick and flies off before the shot is fired.


I don't think one has to be outdoors to get outdoor shots.




Click the author's gallery image on the top of the page to view the author's photographs.
My Outdoor Eyes Photography Blog
Gorgeous Sunrise Over Boat Meadow Salt Marsh On Cape Cod
The days are getting a little shorter, so it is a little darker when I go on my morning bike ride. I have to leave at 6:15, instead of 6:00. As I rode over the salt marsh, the sunrise to the east was just gorgeous! It's been so hot, it even looks a bit hazy. … Continue reading Gorgeous Sunrise Over Boat Meadow Salt Marsh On Cape Cod →


Northern Flicker Brothers Sharing Our Suet On Cape Cod
It's so funny to see the 2 Northern Flickers sharing the suet in our backyard. One hangs onto the bottom and feeds while the other waits patiently for his turn.  They really are so cute! And so polite! Have you ever seen anything like this?


Pretty Pink Water-Willow Wildflowers On Cape Cod
If you go hiking near a fresh water spring or marsh such as The Spring Trail at the  Wellfleet Bay Wildlife Sanctuary or the marshes on Red Maple Swamp Trail at Fort Hill, the chances of seeing a Water-Willow are very good. They like to grow in shallow water in July and August. Water-Willow wildflowers … Continue reading Pretty Pink Water-Willow Wildflowers On Cape Cod →