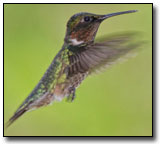 Sometimes one can't get outdoors but still want to take pictures of animals and birds.

For instance, sometimes I can't move too well so I'm confined to a chair by the window. I have my camera near me on a table, bird feeders about 10 feet from the window, and a stump set up 3 feet from the window. Sometimes I will have the camera on a tripod, with a remote cord, set up near the window, prefocused. When a bird lands on the stump and I know it is in the prefocused spot, I start taking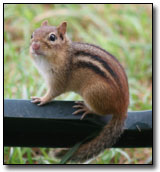 pictures with the remote cord. Having a camera take can take 5 frames helps, because sometimes one can get an unexpected good shot or get one out of 5 good shots. It is not often that I can get 5 good shots in a row because the bird does move around and end up with a shot with no bird in it, if he is so quick and flies off before the shot is fired.


I don't think one has to be outdoors to get outdoor shots.




Click the author's gallery image on the top of the page to view the author's photographs.
My Outdoor Eyes Photography Blog
Pretty White Mouse-Ear Chickweed On Cape Cod.
Mouse-ear Chickweed is a wildflower with tiny, white 1/2″ flowers.   These flowers have 5 deeply notched petals and 5 prominent sepals. The 6-12″ plants grow  from May through September so you should be able to see them this summer. I saw many of them along the trails at Fort Hill. It is often called … Continue reading Pretty White Mouse-Ear Chickweed On Cape Cod. →


Least Terns On Coast Guard Beach On Cape Cod.
We saw quite a few Least Terns on Coast Guard Beach the other day. They are New England's smallest tern at 9." They nest in small colonies and make their nests in the sand by scraping it. (Click link for another photograph.) Beautiful bird, don't you think? Love the food in his bill! Have you … Continue reading Least Terns On Coast Guard Beach On Cape Cod. →


Tranquility At Boat Meadow Beach On Cape Cod.
It was a gorgeous afternoon at Boat Meadow Beach and the perfect day to enjoy the tranquility that it has to offer. I loved this photograph of this 2 masted sailboat and the magnificent clouds in the sky. The colors were spectacular! What do you think?