There are no hotels or lodges here. This is a National Park with no roads. This park is a series of mountain rangers and interlocking valleys and only experienced hikers can mange this difficult terrain. These mountains are pristine and largely untouched by humans.

The Udzungwa Mountains National park was created primarily for the protection of flora rather than fauna. The park was registered in 1992 and is the first of its kind in Tanzania. This park is a series of mountain rangers and interlocking valleys - ranging from the top of the Kilombero Valley at 300 meters above sea level to peaks of around 2,570 meters above sea level. Only experienced hikers can mange this difficult train. Making these mountains pristine and largely untouched by humans.

The Lumeno trail is 65km long and follows the path of the Lumeno River, which is sourced in the heart of these mountains. There are three campsites along the trail that are roughly spaced at 7 to 8 hour walk intervals. They are basic campsites. Remember in Africa basic means just that... basic and simply a peace of ground cleared for your tents. It usually takes three to four days to complete this hike.

The trail passes through three types of vegetation: Miombo Woodland, Grassland and forest. Some of the wildlife you may see on this trail is the, red colobus & black and white colubus monkeys, yellow baboon, sykes monkey, sanje mangabey, bushbuck, waterbuck, bush pig, buffalo, elephant and red duikers.

Many birds species are common along this trail including Pel's fishing owl, which is an indicator of how rich the river is in fish. There are river rapids along this trail with jumping fish and diving otters.

We recommend hiking of this trail to be done in the dry season 'June to November' as in the rainy season the river becomes swollen and turbulent making the river dangerous to cross. The flooding can also hide crocodiles, which can be a greater danger than the swollen river.

This is not an experience for the faint hearted, however, if you love the wilderness this is an experience not to be missed.
-- Outdoor Eyes Daily Blog --
By The River On Cape Cod.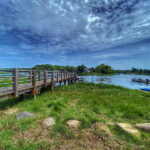 The rivers and ponds make up such a big part of Cape Cod, but sometimes they get lost when you talk about the iconic Cape Cod beaches. I loved this view of the  dock on the river in Orleans with the gorgeous clouds in the background. What do you think?


VISIT THE OUTDOOR EYES BLOG