Hiking with a 3 year old turned out to be quite a surprise! Philip's daughter, her husband and their 3 year old son, Marty, came to visit us for a week. This was their first time here in Estes Park. We didn't know what to expect from a little 3 year old in the park or out on the trails. We started the week doing short walks like Estes Lake, Sprague Lake and Lily Lake. They are all .5 to 1.0 mile long, flat and easy to get around. There is a lot to see from the wildflowers to the lake and the mountains. We all enjoyed them and Little Marty did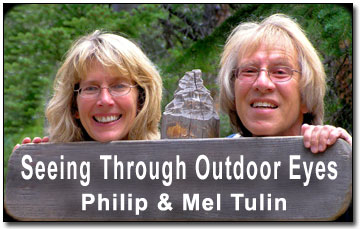 quite well…walking all by himself. We went to the Alluvial Fan Trail which everyone loved and got some great pictures of Little Marty on the rocks in front of the huge waterfall. He loved climbing on the rocks (with a lot of help from Dad!). The walk is so pretty and only .5 miles. We saw a Dusky Blue Grouse and 4 of her babies wondering around on and off of the trail. There are signs at the top of the trail telling us how the Alluvial Fan was formed from the Lawn Lake flood in 1982. A wall of water 30 feet high crashed down the mountain depositing debris and huge boulders. It worked best for us to do our hikes or walks early in the morning and then stop at a different spot for a picnic each day, varying the place where we stopped. We tried Lawn Lake Trailhead, Hollowell Park, a pretty picnic area by the Big Thompson River, Cub Lake and Sprague Lake. There are a lot of great picnic spots in the park that are quite interesting and educational to any child.

We graduated to Bear Lake and bought the very helpful Bear Lake Nature Guide at the trailhead. Following the numbers in the guide and reading out loud, we all had a good lesson in geology and history. It was fun to see the Greenback Cutthroat Trout in the little stream and the "snow knees" (the trees that are shaped because of the heavy snows in the winter). We saw where the glaciers carved out the rocks and the avalanches kept the trees sparse. Marty learned about the lichen on the rocks and every time we saw some, he wouldn't step on that rock because one lichen found in the park grows about one millimeter every 100 years. A good lesson learned! There were golden-mantled ground squirrels and chipmunks galore. By the end of the hike, he could tell them apart. Little Marty was having a ball. We also taught him about the rules and regulations of Rocky Mountain National Park; don't take anything out of the park and leave everything just the way you found it.

From there we took the shuttle down to Glacier Gorge and walked up to Alberta Falls. He just loved the shuttle ride and being on a big bus. With his little walking stick and a lot of snacks, we realized that a 3 year old could do a lot. He loved learning about the trees and flowers and where the beavers build their dams. He loved walking over the little bridges over the small streams and trying to see some fish. We took lots of little breaks and found "resting rocks" along the way. He learned that we have to stay on the trail so we do not crush the vegetation with our footsteps and hurt the environment. When he got a little bored, he would take "Gramma Mel's" hand to help with his (or her!!) balance. This was a good distraction and made for some good bonding time. He was curious and inquisitive about everything. Alberta Falls, which is so spectacular, was a great stopping spot before the hike back down. There were plenty of huge rocks to climb on. The shuttle back up to the car at Bear Lake was a big hit! Little children love things that move.

So far, hiking with a 3 year old has been quite a surprise and a lot of fun for us all. Starting children young makes a huge impact in their everyday lives. With all of our cameras going, we documented the week with 800+ digital photographs. For more hiking stories and tips on hiking with small children, we will continue our hiking adventures with Little Marty in "Start Them Young: Part II" next week.

"Seeing Through Outdoor Eyes" articles are available for newspaper syndication. Please click the "Contact OE" link below to inquire about including the weekly articles in your newspaper.
My Outdoor Eyes Photography Blog
Beautiful Common Loon At Stage Harbor On Cape Cod.
Phil and I had stopped to look at the boats at Stage Harbor in Chatham when we saw this Common Loon shoveling through the water. I quickly got my camera. It had this crab in its bill. Amazing, don't you think? (Click on blog link to see other photos.) Such a gorgeous bird. I loved … Continue reading Beautiful Common Loon At Stage Harbor On Cape Cod. →


Another Top Ten Day At Coast Guard Beach On Cape Cod!
The past 3 days have all been vying for the best "Top Ten Day" here on Cape Cod. The weather has been exquisite with temps in the low 70s, sunny and a slight breeze. Who thought you could still be walking barefoot on the beach in shorts and a t-shirt? Yesterday was one of those … Continue reading Another Top Ten Day At Coast Guard Beach On Cape Cod! →


Gorgeous Sunrise Over The Salt Marsh On Cape Cod.
The sunrises are getting later and later as the days get shorter and shorter. I loved this sunrise over the salt marsh as Boat Meadow Creek. What do you think?