Since I have been posting my wildlife photos in the Outdoor Eyes Forum (particularly my night shots), I have had several people inquire about my set-up for taking pictures. So I decided to snap a couple of quick pictures for illustration purposes.

The first picture displays a daytime view outside my window, with the stumps that the animals frequent in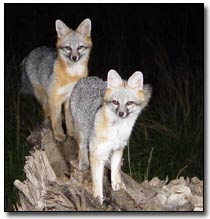 deep shadow with the forest in the background.

The second picture shows a shot of my house, looking at it from the forest. You can see the floodlights I use for night shots and the boarded up window, with holes cut in the plywood for the camera lens.

Please keep in mind, that these are just quick grab shots, strictly intended for illustration purposes. I am sure that there are lots of things technically wrong with them, but they do give an idea of the set up I use to get my night wildlife shots.

I "bait" the stumps to attract the wildlife. I use dog chow and then I also put out a mixture of honey and cornflakes (the cornflakes are there just to give the honey some body). The fox and coyote both seem to particularly relish the honey and cornflakes mixture.

I also use this same set-up for bird and squirrel pictures. The closest stumps are about 3-4 feet from the house, while the stump that the fox and coyote frequent is about 8-10 feet from the house. Hope you learned enough to try your own wildlife photography.
My Outdoor Eyes Photography Blog
Lots Of Seals Off Of Coast Guard Beach On Cape Cod!
There are so many new and huge sandbars along Coast Guard Beach this summer, there is sure to be an influx of seals hanging around. That's exactly what we saw as we took a walk down the beach at low tide yesterday. (Click on blog link for other photo.) You could hear the cacophony of … Continue reading Lots Of Seals Off Of Coast Guard Beach On Cape Cod! →


The Boardwalk On The Red Maple Swamp Trail On Cape Cod.
The boardwalk on the Red Maple Swamp Trail at Fort Hill is lush this summer. It's a great hike over the swamp and you're sure to see lots of wildflowers and hear the diversity of birds singing in the trees. It's one of our favorite hikes!


Feeding The Baby Bluebirds At Our Home on Cape Cod!
I love it when the Bluebird parents feed their young in our yard! It is so precious! Here are 3 photographs that I just loved. (Click on blog link for more photos.) So adorable, don't you think?