Since I have been posting my wildlife photos in the Outdoor Eyes Forum (particularly my night shots), I have had several people inquire about my set-up for taking pictures. So I decided to snap a couple of quick pictures for illustration purposes.

The first picture displays a daytime view outside my window, with the stumps that the animals frequent in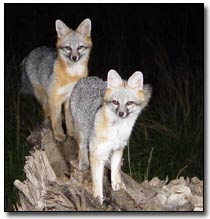 deep shadow with the forest in the background.

The second picture shows a shot of my house, looking at it from the forest. You can see the floodlights I use for night shots and the boarded up window, with holes cut in the plywood for the camera lens.

Please keep in mind, that these are just quick grab shots, strictly intended for illustration purposes. I am sure that there are lots of things technically wrong with them, but they do give an idea of the set up I use to get my night wildlife shots.

I "bait" the stumps to attract the wildlife. I use dog chow and then I also put out a mixture of honey and cornflakes (the cornflakes are there just to give the honey some body). The fox and coyote both seem to particularly relish the honey and cornflakes mixture.

I also use this same set-up for bird and squirrel pictures. The closest stumps are about 3-4 feet from the house, while the stump that the fox and coyote frequent is about 8-10 feet from the house. Hope you learned enough to try your own wildlife photography.
My Outdoor Eyes Photography Blog
Love The Bridge Over Nauset Marsh On Cape Cod.
One of our favorite walks is from Doane Rock to Coast Guard Beach. Each time you go, it is so different. You can see that fall is here with the marsh grasses turning a yellowy brown. So pretty, don't you think? Have you ever walked over this bridge?


Adorable Sanderlings At Coast Guard Beach On Cape Cod.
I love the little Sanderlings as they scurry about looking for food on Coast Guard Beach. These three were dodging the waves to find something to eat. Sanderlings are here on the Cape all year round, so you can frequently see them on the beaches or flying above. Have you ever seen a Sanderling? Beautiful … Continue reading Adorable Sanderlings At Coast Guard Beach On Cape Cod. →


Nauset Marsh Trail Overlooking Nauset Marsh On Cape Cod!
I love Nauset Marsh Trail which winds around the Salt Pond by the Visitors Center in Eastham and out to Nauset Marsh.  It is so different each time you hike it. It is particularly pretty this time of year with its fall colors and late-flowering bushes. Pretty, don't you think? Love those clouds!