Sometimes you need to sharpen the hair and eyes while at the same time leaving the skin natural. Using the technique described below will add sharpness to the hair and eyes in your photographs.
How To Sharpen The Hair And Eyes
1. Open the file. Choose File --> Open --> Enter the image name to be fixed.
2. Make a duplicate copy of the image by either (Ctl+J) or Choose Layer --> New --> Layer Via Copy.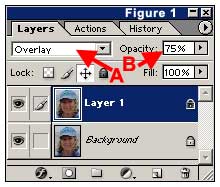 3. Select the new layer. Set the Blend Mode to Overlay (Figure 1 A) and set the Opacity to 75% (Figure 1 B). You can always change the opacity setting to suit your preference and your photograph.
4. Select the new layer. Open the filter box. Choose Filter --> Other --> High Pass. Start with a setting of 2 for the Pixel Radius (Figure 2 A). You can always change this setting to suit your preference and your photograph. Click OK.
5. Choose the eraser and erase from the new layer any unwanted sharpness that is unnecessary. Set the eraser to a size which will enable you to erase small portions of your photograph.

My Outdoor Eyes Photography Blog
Beautiful Trail To Duck Harbor Beach In Wellfleet On Cape Cod.
The trail to Duck Harbor Beach on the ocean side of Wellfleet was just magnificent. We had never been there before. It's a short walk over the dunes to the beach where the views of the ocean are breathtaking. You can also see Provincetown in the distance to the right. Just beautiful, don't you think?


The River Pier On Cape Cod¦ Which Perspective Do You Like Better?
I couldn't decide which perspective of the 2 photographs I liked better of this pier on The River in Orleans.  The River is connected to Meeting House Pond, which is a great area to paddle kayaks into Little Pleasant Bay. What do you think?


Pamet Trail In Truro On Cape Cod Is A Favorite On The Alltrails App.
  Pamet Trail is one of our favorite hikes in the Truro area on Cape Cod. There is so much diversity from scrubby bushes and trees to pine forests to sand dunes overlooking the ocean to cranberry bogs. (There are additional photos and a map at the end of the blog.) There is a bit … Continue reading Pamet Trail In Truro On Cape Cod Is A Favorite On The Alltrails App. →