Sometimes you need to sharpen the hair and eyes while at the same time leaving the skin natural. Using the technique described below will add sharpness to the hair and eyes in your photographs.
How To Sharpen The Hair And Eyes
1. Open the file. Choose File --> Open --> Enter the image name to be fixed.
2. Make a duplicate copy of the image by either (Ctl+J) or Choose Layer --> New --> Layer Via Copy.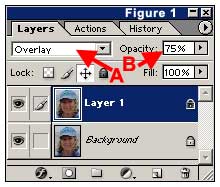 3. Select the new layer. Set the Blend Mode to Overlay (Figure 1 A) and set the Opacity to 75% (Figure 1 B). You can always change the opacity setting to suit your preference and your photograph.
4. Select the new layer. Open the filter box. Choose Filter --> Other --> High Pass. Start with a setting of 2 for the Pixel Radius (Figure 2 A). You can always change this setting to suit your preference and your photograph. Click OK.
5. Choose the eraser and erase from the new layer any unwanted sharpness that is unnecessary. Set the eraser to a size which will enable you to erase small portions of your photograph.

My Outdoor Eyes Photography Blog
Indian Summer On Cape Cod.
September is one of my favorite months here on Cape Cod. The weather is usually warm as is the water. And… the people are gone so you have the place to yourself! This was one of the last days of summer with the people lazing about in the water and on the beach at Rock … Continue reading Indian Summer On Cape Cod. →


The Seals At Coast Guard Beach On Cape Cod.
There were about 50 seals relaxing in the shallow waters off of Coast Guard Beach the other morning. Phil took this photo of me looking at them. It looks like they are only a few feet away. Pretty cool, huh? Look at that guy right in front! Too funny! He looks like he's laughing!


Driving Around Chatham On Cape Cod¦
We were taking a drive to Morris Island in Chatham yesterday when we passed a couple of vintage cars. They were really cool. Here is one of them. Not bad, huh?