Sometimes you need to sharpen the hair and eyes while at the same time leaving the skin natural. Using the technique described below will add sharpness to the hair and eyes in your photographs.
How To Sharpen The Hair And Eyes
1. Open the file. Choose File --> Open --> Enter the image name to be fixed.
2. Make a duplicate copy of the image by either (Ctl+J) or Choose Layer --> New --> Layer Via Copy.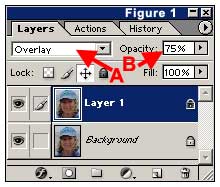 3. Select the new layer. Set the Blend Mode to Overlay (Figure 1 A) and set the Opacity to 75% (Figure 1 B). You can always change the opacity setting to suit your preference and your photograph.
4. Select the new layer. Open the filter box. Choose Filter --> Other --> High Pass. Start with a setting of 2 for the Pixel Radius (Figure 2 A). You can always change this setting to suit your preference and your photograph. Click OK.
5. Choose the eraser and erase from the new layer any unwanted sharpness that is unnecessary. Set the eraser to a size which will enable you to erase small portions of your photograph.

My Outdoor Eyes Photography Blog
Beautiful Common Eider At Rock Harbor On Cape Cod.
It's always fun to stop by Rock Harbor to see if there are any photo ops. There usually are! This Common Eider and his wife were swimming about the harbor, more interested in preening than fishing. Beautiful birds, don't you think? Such a difference male to female…


śRetroť Photograph Of Coast Guard Station In Eastham On Cape Cod.
Phil and I were experimenting with our new cameras and took several "retro" photographs of the Coast Guard Station. We couldn't decide which one we like better. Which one do you like better?


Gorgeous Skies At The Salt Pond In Eastham On Cape Cod.
The skies were magnificent as we hiked the Salt Pond Trail, also known as Nauset Marsh Trail, the other day.  I took a horizontal photograph and thought that it looked pretty. The sky and clouds were spectacular.  And then I took a vertical one. Wow! What do you think?