Sometimes you might want to combine monotone with color to produce a new look for your photograph. The history brush is very effective in helping to create that combination.
How To Apply Monotone Using The History Brush
Note: The history brush will not work properly if the photograph is resampled or the image size has been changed. The snapshots that are indicated below are not saved when the finished photograph is saved.

1. Open the file. Choose File --> Open --> Enter the image name to be fixed.
2. Hold the Ctrl Key down and hit the + key a few times to zoom the image to 100%.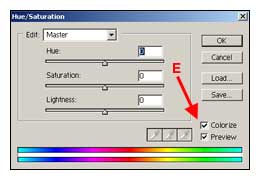 3. Choose Image --> Adjustment --> Hue/Saturation. Click the colorize box (E) and a check will appear. Click OK. The history screen will display the unsharpen mask as indicated in the image below (A).
4. Click the camera located on the bottom of the history screen (B). A snapshot of the photography will appear named as Snapshot 1 (B).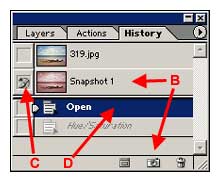 5. Select the history brush from the tool box and choose the brush size needed.
6. Click the box on the left side of Snapshot 1 (C). Click open on the history screen and the word open will be highlighted in blue (D).
7. Slowly paint the area that you want to appear in a monotone. You might want to use the Magic Wand to help isolate the sections that need to be painted.
8. You can add additional snapshots at any time if your image needs additional editing.
9. Save the image.
My Outdoor Eyes Photography Blog
The Old Road To Coast Guard Beach On Cape Cod.
The road to Coast Guard Beach looked quite different before the Blizzard of 1978.  (Click on blog to see old photograph from the Cape Cod National Seashore.) Before the Blizzard of 1978, there used to be hundreds of parking places for people could access the beach. You can see these in the 2nd photograph. It … Continue reading The Old Road To Coast Guard Beach On Cape Cod. →


Calling All Female House Sparrows On Cape Cod!!
We've had this male House Sparrow sitting on the birdhouse outside our bedroom chirping for the past 6 days, almost nonstop. He starts about 5:00 am and chirps until dark. We thought he had lost his mate or something catastrophic. His constant chirping is "driving us crazy!" ðŸ'' When Phil did some research last night, … Continue reading Calling All Female House Sparrows On Cape Cod!! →


Colorful Scotch Broom Wildflowers On Cape Cod.
The bright yellow color with a hint of orange of the Scotch Broom caught my eye the other day as I was walking to the beach. The Scotch Broom is a stiffly branched shrub with 1″ yellow pea-shaped flowers near the end of the branches. The plant grows 3-5 feet and the flowers bloom in … Continue reading Colorful Scotch Broom Wildflowers On Cape Cod. →