Nature is not random and it is beautifully proven out by the squirrels. During the next week, spend about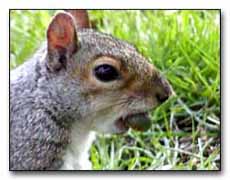 20 minutes in your own back yard and observe squirrels. You will notice a very interesting pattern. The squirrels have a tree to tree, branch to branch, roof to roof highway that they always seem to go on. With thousands of combinations of branches and trees to jump and run on, they always seem to pick the same route. So, if you didn't recognize this pattern before, what else did you not recognize? Once you've identified the route, try to take an anticipated midair photograph of where you expect that squirrel to be. It will prepare you for "In-The-Moment Photography". Understanding that nature is not random will give you more wildlife photography opportunities.
My Outdoor Eyes Photography Blog
Lone Egret At Rock Harbor On Cape Cod.
I stopped by Rock Harbor on my bike ride the other morning and was greeted with this beautiful view. I love the Egret by the side of the beach grass and the contrasting colors of the jetty. Pretty, don't you think?


Wellfleet Docks On Cape Cod.
There are still plenty of boats at the docks in back of Wellfleet Harbor behind the pier. I loved this photograph of  the rocks and waterways and the reflection of the poles in the water. What do you think?


Beautiful Common Loon At Stage Harbor On Cape Cod.
Phil and I had stopped to look at the boats at Stage Harbor in Chatham when we saw this Common Loon shoveling through the water. I quickly got my camera. It had this crab in its bill. Amazing, don't you think? (Click on blog link to see other photos.) Such a gorgeous bird. I loved … Continue reading Beautiful Common Loon At Stage Harbor On Cape Cod. →