Nature is not random and it is beautifully proven out by the squirrels. During the next week, spend about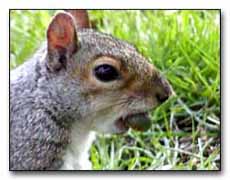 20 minutes in your own back yard and observe squirrels. You will notice a very interesting pattern. The squirrels have a tree to tree, branch to branch, roof to roof highway that they always seem to go on. With thousands of combinations of branches and trees to jump and run on, they always seem to pick the same route. So, if you didn't recognize this pattern before, what else did you not recognize? Once you've identified the route, try to take an anticipated midair photograph of where you expect that squirrel to be. It will prepare you for "In-The-Moment Photography". Understanding that nature is not random will give you more wildlife photography opportunities.
My Outdoor Eyes Photography Blog
Lots Of Seals Off Of Coast Guard Beach On Cape Cod!
There are so many new and huge sandbars along Coast Guard Beach this summer, there is sure to be an influx of seals hanging around. That's exactly what we saw as we took a walk down the beach at low tide yesterday. (Click on blog link for other photo.) You could hear the cacophony of … Continue reading Lots Of Seals Off Of Coast Guard Beach On Cape Cod! →


The Boardwalk On The Red Maple Swamp Trail On Cape Cod.
The boardwalk on the Red Maple Swamp Trail at Fort Hill is lush this summer. It's a great hike over the swamp and you're sure to see lots of wildflowers and hear the diversity of birds singing in the trees. It's one of our favorite hikes!


Feeding The Baby Bluebirds At Our Home on Cape Cod!
I love it when the Bluebird parents feed their young in our yard! It is so precious! Here are 3 photographs that I just loved. (Click on blog link for more photos.) So adorable, don't you think?