Nature is not random and it is beautifully proven out by the squirrels. During the next week, spend about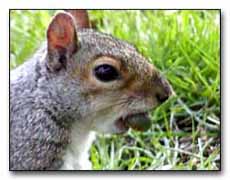 20 minutes in your own back yard and observe squirrels. You will notice a very interesting pattern. The squirrels have a tree to tree, branch to branch, roof to roof highway that they always seem to go on. With thousands of combinations of branches and trees to jump and run on, they always seem to pick the same route. So, if you didn't recognize this pattern before, what else did you not recognize? Once you've identified the route, try to take an anticipated midair photograph of where you expect that squirrel to be. It will prepare you for "In-The-Moment Photography". Understanding that nature is not random will give you more wildlife photography opportunities.
My Outdoor Eyes Photography Blog
If You're On Cape Cod, Look For The Hydrangeas!
Hydrangeas seem to be "the" Cape Cod flower. They grow beautifully here and are certainly abundant! When we were building our home a few years ago, the two staples that I wanted for our "Cape Cod garden" were Hydrangeas and Daisies. Depending on the acidity in the soil, they can be shades of blue or … Continue reading If You're On Cape Cod, Look For The Hydrangeas! →


Great Blue Heron At Boat Meadow Creek On Cape Cod.
We were driving home the other night when I saw this beautiful Great Blue Heron out of the corner of my eye. He was standing on the banks of the salt marsh looking for dinner. I quickly drove home and got my camera. Luckily, he was still there a few minutes later. The Great Blue … Continue reading Great Blue Heron At Boat Meadow Creek On Cape Cod. →


Sunfish Waiting For The Tide To Come In At Wellfleet Harbor On Cape Cod.
This Sunfish is ready and waiting for the tide to come in a bit so it can go for a sail at Wellfleet Harbor. I loved the vibrant colors of the sail against the deep blue water and the interesting cloud formations in the sky. What do you think?