I don't know about you but I tend to get single-minded and narrow focused when I am planning a photo shoot. I want to get the big "opportunity" and tend to overlook the small ones.


Case in point. The doctors have told me to walk to improve my circulation and to strengthen my heart. I decided to walk to the nearby cypress swamp and see if I could get some shots of the nesting great blue herons. I have a blind already set up.

I took my camera and my 600mm mirror lens, it is much lighter than the big Canon 500, loaded a cell phone, water, film and a couple more lenses in my waist belt, put the camera on the tripod and left.

I was in a big hurry to get there and almost did not take time to look around. However on the way I spotted a butterfly. I did force myself to wait and got a couple of shots of it.

Ok, let's hurry along and get those herons. when I got to the swamp road I saw some more butterflies and a few dragonflies. I took a few shots and then eased on. Of course in my haste I spooked all the birds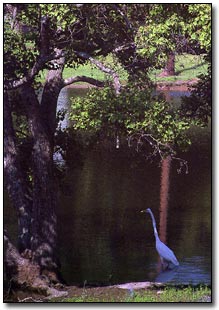 from the swamp. Kicking myself I decided to go to the blind and see if they would come back. While I was there, a lizard came out and did his mating display. The herons flew over but never landed. However just before I was leaving, a great egret lit on a log and posed.

I was walking back and a grasshopper landed on a grass stalk and allowed me to get real close. I was still mad at myself and disappointed I did not accomplish what I had set out to do. As I was walking home I got to thinking about the photos I did get and it occurred to me that all of God's creatures are important, even me. Don't get so focused on the big things that you miss the little ones. Life is a journey and if you miss "smelling the roses" you will never be able to go back. All of us can not photograph the great western scenery or maybe even some of the grand wildlife, but we can photograph the small things in our own backyard. Enjoy life and keep on shooting.
Click the author's gallery image on the top of the page to view the author's photographs.
My Outdoor Eyes Photography Blog
Beautiful Trail To Duck Harbor Beach In Wellfleet On Cape Cod.
The trail to Duck Harbor Beach on the ocean side of Wellfleet was just magnificent. We had never been there before. It's a short walk over the dunes to the beach where the views of the ocean are breathtaking. You can also see Provincetown in the distance to the right. Just beautiful, don't you think?


The River Pier On Cape Cod¦ Which Perspective Do You Like Better?
I couldn't decide which perspective of the 2 photographs I liked better of this pier on The River in Orleans.  The River is connected to Meeting House Pond, which is a great area to paddle kayaks into Little Pleasant Bay. What do you think?


Pamet Trail In Truro On Cape Cod Is A Favorite On The Alltrails App.
  Pamet Trail is one of our favorite hikes in the Truro area on Cape Cod. There is so much diversity from scrubby bushes and trees to pine forests to sand dunes overlooking the ocean to cranberry bogs. (There are additional photos and a map at the end of the blog.) There is a bit … Continue reading Pamet Trail In Truro On Cape Cod Is A Favorite On The Alltrails App. →