Bicycles are a great way to get around quietly and quickly in an urban area.
It is very easy for me to go to a place, get off my bicycle, and take photos. I don't have to worry about parking a car.

Taking photos from a bicycle has opened up new areas for me. I get around the hike and bike trails, the short cut routes not open to cars, bridge sidewalks, and parking deck roofs.

I keep a point and shoot camera in a handlebar bag or the back pocket of my bicycle jersey for easy access. I am ready when an opportunity presents itself or when I am out to take specific pictures.

After a little practice, I can get my camera out, take a shot,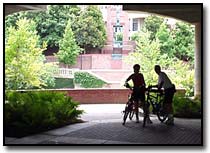 and put it away while stopped at a light.

On a road with no traffic, I can use my camera with one hand while I keep the other one on the handlebar. I take the picture without looking through the viewfinder, just point and shoot.

Bicycles are a great way to meet people on the street and take their picture. Sometimes I ask people to take a picture of me on my bicycle. Usually, whoever I talk with will tell me about something cool to photograph nearby.


Sometimes I carry a bigger camera, an SLR, in my Camelback. While it is not as spontaneous as a point and shoot, I can still take advantage of traveling by bicycle.


Best of all, the bicycle shops I stop in like to hang up my photos of people having fun with bicycles.
My Outdoor Eyes Photography Blog
The Old Road To Coast Guard Beach On Cape Cod.
The road to Coast Guard Beach looked quite different before the Blizzard of 1978.  (Click on blog to see old photograph from the Cape Cod National Seashore.) Before the Blizzard of 1978, there used to be hundreds of parking places for people could access the beach. You can see these in the 2nd photograph. It … Continue reading The Old Road To Coast Guard Beach On Cape Cod. →


Calling All Female House Sparrows On Cape Cod!!
We've had this male House Sparrow sitting on the birdhouse outside our bedroom chirping for the past 6 days, almost nonstop. He starts about 5:00 am and chirps until dark. We thought he had lost his mate or something catastrophic. His constant chirping is "driving us crazy!" ðŸ'' When Phil did some research last night, … Continue reading Calling All Female House Sparrows On Cape Cod!! →


Colorful Scotch Broom Wildflowers On Cape Cod.
The bright yellow color with a hint of orange of the Scotch Broom caught my eye the other day as I was walking to the beach. The Scotch Broom is a stiffly branched shrub with 1″ yellow pea-shaped flowers near the end of the branches. The plant grows 3-5 feet and the flowers bloom in … Continue reading Colorful Scotch Broom Wildflowers On Cape Cod. →