Bicycles are a great way to get around quietly and quickly in an urban area.
It is very easy for me to go to a place, get off my bicycle, and take photos. I don't have to worry about parking a car.

Taking photos from a bicycle has opened up new areas for me. I get around the hike and bike trails, the short cut routes not open to cars, bridge sidewalks, and parking deck roofs.

I keep a point and shoot camera in a handlebar bag or the back pocket of my bicycle jersey for easy access. I am ready when an opportunity presents itself or when I am out to take specific pictures.

After a little practice, I can get my camera out, take a shot,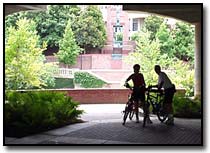 and put it away while stopped at a light.

On a road with no traffic, I can use my camera with one hand while I keep the other one on the handlebar. I take the picture without looking through the viewfinder, just point and shoot.

Bicycles are a great way to meet people on the street and take their picture. Sometimes I ask people to take a picture of me on my bicycle. Usually, whoever I talk with will tell me about something cool to photograph nearby.


Sometimes I carry a bigger camera, an SLR, in my Camelback. While it is not as spontaneous as a point and shoot, I can still take advantage of traveling by bicycle.


Best of all, the bicycle shops I stop in like to hang up my photos of people having fun with bicycles.
My Outdoor Eyes Photography Blog
Gorgeous Sunrise Over Boat Meadow Salt Marsh On Cape Cod
The days are getting a little shorter, so it is a little darker when I go on my morning bike ride. I have to leave at 6:15, instead of 6:00. As I rode over the salt marsh, the sunrise to the east was just gorgeous! It's been so hot, it even looks a bit hazy. … Continue reading Gorgeous Sunrise Over Boat Meadow Salt Marsh On Cape Cod →


Northern Flicker Brothers Sharing Our Suet On Cape Cod
It's so funny to see the 2 Northern Flickers sharing the suet in our backyard. One hangs onto the bottom and feeds while the other waits patiently for his turn.  They really are so cute! And so polite! Have you ever seen anything like this?


Pretty Pink Water-Willow Wildflowers On Cape Cod
If you go hiking near a fresh water spring or marsh such as The Spring Trail at the  Wellfleet Bay Wildlife Sanctuary or the marshes on Red Maple Swamp Trail at Fort Hill, the chances of seeing a Water-Willow are very good. They like to grow in shallow water in July and August. Water-Willow wildflowers … Continue reading Pretty Pink Water-Willow Wildflowers On Cape Cod →