Bicycles are a great way to get around quietly and quickly in an urban area.
It is very easy for me to go to a place, get off my bicycle, and take photos. I don't have to worry about parking a car.

Taking photos from a bicycle has opened up new areas for me. I get around the hike and bike trails, the short cut routes not open to cars, bridge sidewalks, and parking deck roofs.

I keep a point and shoot camera in a handlebar bag or the back pocket of my bicycle jersey for easy access. I am ready when an opportunity presents itself or when I am out to take specific pictures.

After a little practice, I can get my camera out, take a shot,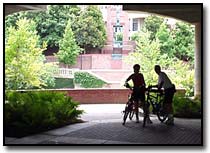 and put it away while stopped at a light.

On a road with no traffic, I can use my camera with one hand while I keep the other one on the handlebar. I take the picture without looking through the viewfinder, just point and shoot.

Bicycles are a great way to meet people on the street and take their picture. Sometimes I ask people to take a picture of me on my bicycle. Usually, whoever I talk with will tell me about something cool to photograph nearby.


Sometimes I carry a bigger camera, an SLR, in my Camelback. While it is not as spontaneous as a point and shoot, I can still take advantage of traveling by bicycle.


Best of all, the bicycle shops I stop in like to hang up my photos of people having fun with bicycles.
My Outdoor Eyes Photography Blog
śRetroť Photograph Of Coast Guard Station In Eastham On Cape Cod.
Phil and I were experimenting with our new cameras and took several "retro" photographs of the Coast Guard Station. We couldn't decide which one we like better. Which one do you like better?


Gorgeous Skies At The Salt Pond In Eastham On Cape Cod.
The skies were magnificent as we hiked the Salt Pond Trail, also known as Nauset Marsh Trail, the other day.  I took a horizontal photograph and thought that it looked pretty. The sky and clouds were spectacular.  And then I took a vertical one. Wow! What do you think?


Loved This Great Blue Heron Stalking His Next Meal On Cape Cod.
The Great Blue Heron is my very favorite bird! I love its features and the majestic way it moves. We were walking the Salt Pond Trail and saw this Great Blue looking for his next meal. Beautiful bird, don't you think?