Bicycles are a great way to get around quietly and quickly in an urban area.
It is very easy for me to go to a place, get off my bicycle, and take photos. I don't have to worry about parking a car.

Taking photos from a bicycle has opened up new areas for me. I get around the hike and bike trails, the short cut routes not open to cars, bridge sidewalks, and parking deck roofs.

I keep a point and shoot camera in a handlebar bag or the back pocket of my bicycle jersey for easy access. I am ready when an opportunity presents itself or when I am out to take specific pictures.

After a little practice, I can get my camera out, take a shot,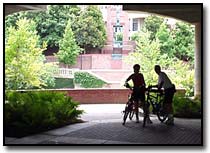 and put it away while stopped at a light.

On a road with no traffic, I can use my camera with one hand while I keep the other one on the handlebar. I take the picture without looking through the viewfinder, just point and shoot.

Bicycles are a great way to meet people on the street and take their picture. Sometimes I ask people to take a picture of me on my bicycle. Usually, whoever I talk with will tell me about something cool to photograph nearby.


Sometimes I carry a bigger camera, an SLR, in my Camelback. While it is not as spontaneous as a point and shoot, I can still take advantage of traveling by bicycle.


Best of all, the bicycle shops I stop in like to hang up my photos of people having fun with bicycles.
My Outdoor Eyes Photography Blog
Beautiful Common Loon At Stage Harbor On Cape Cod.
Phil and I had stopped to look at the boats at Stage Harbor in Chatham when we saw this Common Loon shoveling through the water. I quickly got my camera. It had this crab in its bill. Amazing, don't you think? (Click on blog link to see other photos.) Such a gorgeous bird. I loved … Continue reading Beautiful Common Loon At Stage Harbor On Cape Cod. →


Another Top Ten Day At Coast Guard Beach On Cape Cod!
The past 3 days have all been vying for the best "Top Ten Day" here on Cape Cod. The weather has been exquisite with temps in the low 70s, sunny and a slight breeze. Who thought you could still be walking barefoot on the beach in shorts and a t-shirt? Yesterday was one of those … Continue reading Another Top Ten Day At Coast Guard Beach On Cape Cod! →


Gorgeous Sunrise Over The Salt Marsh On Cape Cod.
The sunrises are getting later and later as the days get shorter and shorter. I loved this sunrise over the salt marsh as Boat Meadow Creek. What do you think?