Many of you know I enjoy landscape/scenic photography the best. Over these 50 odd years I have come up with these words of wisdom for landscape photography.

Be familiar with your equipment
Get to know your camera and all your other gear in a relaxed environment... such as your home. READ the manual,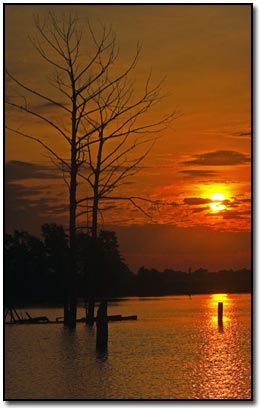 find the controls and take some test photographs. While on that once in a lifetime photo op is not the time to hunt for the ISO button.

Dead center
I have noticed a tendency among new photographers, and some older ones to center the main subject every shot. Try some different compositions and positions. Finish the shot. Don't be in a hurry.

Take your time
Exceptional photographs are not made in a hurry. Look around, wait on the light, wait on the wind but never be in a hurry. Slow down and get set up, then take stock of what you are doing. and what you want to achieve.

Be prepared in advance
Make sure your camera is ready and all accessories are easy to access. There is nothing worse than running out of power, film or memory when the morning light hits Schwabachers landing. Take plenty of batteries, film and flash cards.

Simplify the photo
A lot of scenic/landscape photos are just plain busy. In an effort to cram every detail in, we lose sight of the main attraction. Emphasize the main point and eliminate the unimportant. Less is more.

Be mentally prepared
Focused, ready and in the zone. Have a game plan and stick to it. Be prepared to get a great image and settle for nothing less. Many now believe software can solve anything. Remember "Garbage In & Garbage Out. Prepare yourself to take that best shot and use software to optimize the photograph not to fix it.

Hand held exposure meter
Hand held exposure meters are still very important today. They are not used nearly enough and the proper use would save a lot of bad exposures. Obtain a good one and learn how to use a meter.

Sharp... sharp... sharp
Know your capabilities when it comes to razor sharp handheld images. Some handheld photographers can shoot much slower than others. Obtain a good, stiff, fluid tripod and learn to employ it correctly. The proper use of one will greatly increase your keeper rate.

Focus the finder
Most new cameras have a means to focus the viewfinder. It is usually a small dial that sets the diopter. Use autofocus to obtain a sharp focus and adjust the dial till the viewfinder is sharp. This does not apply to rangefinder or split-screen SLR's.

Never risk personal safety
No shot is worth injury. Watch out around rocks, cliffs, trails, streams, etc. Don't get in a hurry and lose better judgement. Slow down an take stock of the situation. This pertains to backcountry vehicle travel as well. Never take too big of a risk.

I hope this has helped you and good luck with landscape photography.
My Outdoor Eyes Photography Blog
Gorgeous Sunrise Over Boat Meadow Salt Marsh On Cape Cod
The days are getting a little shorter, so it is a little darker when I go on my morning bike ride. I have to leave at 6:15, instead of 6:00. As I rode over the salt marsh, the sunrise to the east was just gorgeous! It's been so hot, it even looks a bit hazy. … Continue reading Gorgeous Sunrise Over Boat Meadow Salt Marsh On Cape Cod →


Northern Flicker Brothers Sharing Our Suet On Cape Cod
It's so funny to see the 2 Northern Flickers sharing the suet in our backyard. One hangs onto the bottom and feeds while the other waits patiently for his turn.  They really are so cute! And so polite! Have you ever seen anything like this?


Pretty Pink Water-Willow Wildflowers On Cape Cod
If you go hiking near a fresh water spring or marsh such as The Spring Trail at the  Wellfleet Bay Wildlife Sanctuary or the marshes on Red Maple Swamp Trail at Fort Hill, the chances of seeing a Water-Willow are very good. They like to grow in shallow water in July and August. Water-Willow wildflowers … Continue reading Pretty Pink Water-Willow Wildflowers On Cape Cod →