This is just a reminder to everyone that no matter how many pictures you take of a subject you are never done. Every image of anything but a static studio shot will be a little different from the last one.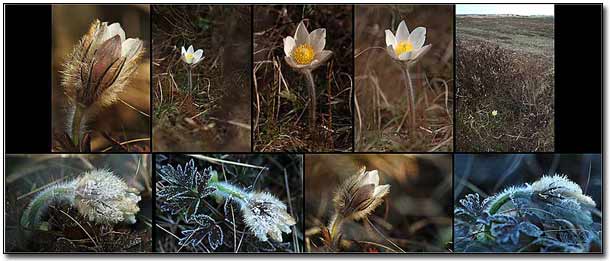 Here for example is the Pale Pasque Flower. I have now returned to the same spot at three times, morning, midday and afternoon in cloudy weather and sunshine to photograph the three little flowers on the heath and I fully expect to return several times within the next couple of weeks. As you can see from the images in the collage there are a million different ways to photograph even a flower, and each way can result in a myriad of different images depending on the time of day, weather conditions, light, surroundings etc.

Here is how I often go about photographing a new subject; after I find it I shoot a few documentation shots right away. These are almost always taken as close-ups as they are later to be used for identification of the species or proof of the subject's occurrence. After this is done I try to get the best possible shot of the subject. This is where the work often starts for me as often the subject is not looking as good as it can. It could be a flower not yet fully developed or an insect that does not present itself in the best way, or a bird with the wrong background for that matter, and if there is a chance of finding a better looking subject right away I attempt to find it. It could also be the time of day or the weather that is not optimal or simply that I cannot come up with a creative way to present the subject in which case I move on and return at a later time when I have found a solution.

I always keep my images in a file, even the ones that didn't turn out good, for research purposes. That way I know at which time of year to return to a specific location for an attempt to photograph a subject in a more creative, flattering or interesting way. Also I have found myself going back to my archive of images not good enough for publication in order to properly identify a species on the images that did turn out well.

Remember to study your subject closely and don't expect that your first attempt will be the best possible shot - it rarely is!



Click the author's gallery image on the top of the page to view the author's photographs.
My Outdoor Eyes Photography Blog
Beech Forest Trail In Provincetown On Cape Cod Is Gorgeous!
If you're looking for a gorgeous and fairly easy hike in Provincetown, try the Beech Forest Trail. It is just beautiful as it meaders on a boardwalk over the marshes, through a beech tree forest, through a pine forest and then around the lake. It doesn't get much prettier, especially in the fall when the … Continue reading Beech Forest Trail In Provincetown On Cape Cod Is Gorgeous! →


Slender Fragrant Goldenrod Wildflowers At Fort Hill On Cape Cod.
I never knew there are so many different varieties of Goldenrod wildflowers. Wow! I saw this Slender Fragrant Goldenrod a couple of weeks ago while hiking at Fort Hill. Although I've seen Goldenrod for years and years, I don't remember seeing this one before. It looked so delicate. Slender Fragrant Goldenrod has 1/4″ tiny yellow … Continue reading Slender Fragrant Goldenrod Wildflowers At Fort Hill On Cape Cod. →


Eight Great Blue Herons On Nauset Marsh On Cape Cod.
There was a huge flock of birds out on Nauset Marsh, part of the National Seashore,  the other day. Many were Double-Crested Cormorants with some Seagulls and Egrets mixed in. I was so surprised when I got home and counted 8 Great Blue Herons on the far shore. I wonder what brought them all together… … Continue reading Eight Great Blue Herons On Nauset Marsh On Cape Cod. →