If you can't photograph at home, then how do you expect to photograph anywhere else? Some people believe that it is the subject or the camera that makes a great photograph. You can take a terrible photograph in Africa and you can take a terrific photograph in your own backyard. It is never the subject... it is always the photographer.

It is quite similar to the golfer who hits the ball poorly at the practice range. His answer is always the same. "This is only practice. Once I get on to the golf course, I will be MUCH better." How is that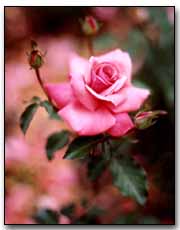 golfer going to be better when the controlled practice is so irregular? That golfer will continue to hit the same troubled shots on the golf course because of the terrible practice procedures. It is the same in photography. Practice well, and when the opportunity comes, the photographs will be similar to the practice.

So, how do you get ready? Start right now and go outside in your own backyard and practice. If you constantly take good photographs of the birds, squirrels and the flowers in your yard, then you will continuously become a better photographer. Stretch you ability and start with a plan. Try to photograph sometime different each day in your own backyard. Learn how to carefully approach wildlife (read the Outdoor Eyes Section). There's obviously a tremendous advantage with digital cameras. It is similar to hitting practice golf balls in your backyard. You get instant feedback and you can change your style and method immediately. With film, practice is a little harder... but it still possible. Take a trip to your local park and take photographs of landscapes to practice your depth of field.

Also, don't forget to practice during early morning sunrise and late afternoon sunset. Not only will you see different lighting, but there will also be different wildlife available to photograph. Take photographs during the rain and snow. Once you are comfortable in all these situations, you will be comfortable and automatic when you travel elsewhere. As they say, "Practice Makes Perfect".
My Outdoor Eyes Photography Blog
Love The Bridge Over Nauset Marsh On Cape Cod.
One of our favorite walks is from Doane Rock to Coast Guard Beach. Each time you go, it is so different. You can see that fall is here with the marsh grasses turning a yellowy brown. So pretty, don't you think? Have you ever walked over this bridge?


Adorable Sanderlings At Coast Guard Beach On Cape Cod.
I love the little Sanderlings as they scurry about looking for food on Coast Guard Beach. These three were dodging the waves to find something to eat. Sanderlings are here on the Cape all year round, so you can frequently see them on the beaches or flying above. Have you ever seen a Sanderling? Beautiful … Continue reading Adorable Sanderlings At Coast Guard Beach On Cape Cod. →


Nauset Marsh Trail Overlooking Nauset Marsh On Cape Cod!
I love Nauset Marsh Trail which winds around the Salt Pond by the Visitors Center in Eastham and out to Nauset Marsh.  It is so different each time you hike it. It is particularly pretty this time of year with its fall colors and late-flowering bushes. Pretty, don't you think? Love those clouds!