If you can't photograph at home, then how do you expect to photograph anywhere else? Some people believe that it is the subject or the camera that makes a great photograph. You can take a terrible photograph in Africa and you can take a terrific photograph in your own backyard. It is never the subject... it is always the photographer.

It is quite similar to the golfer who hits the ball poorly at the practice range. His answer is always the same. "This is only practice. Once I get on to the golf course, I will be MUCH better." How is that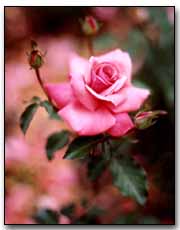 golfer going to be better when the controlled practice is so irregular? That golfer will continue to hit the same troubled shots on the golf course because of the terrible practice procedures. It is the same in photography. Practice well, and when the opportunity comes, the photographs will be similar to the practice.

So, how do you get ready? Start right now and go outside in your own backyard and practice. If you constantly take good photographs of the birds, squirrels and the flowers in your yard, then you will continuously become a better photographer. Stretch you ability and start with a plan. Try to photograph sometime different each day in your own backyard. Learn how to carefully approach wildlife (read the Outdoor Eyes Section). There's obviously a tremendous advantage with digital cameras. It is similar to hitting practice golf balls in your backyard. You get instant feedback and you can change your style and method immediately. With film, practice is a little harder... but it still possible. Take a trip to your local park and take photographs of landscapes to practice your depth of field.

Also, don't forget to practice during early morning sunrise and late afternoon sunset. Not only will you see different lighting, but there will also be different wildlife available to photograph. Take photographs during the rain and snow. Once you are comfortable in all these situations, you will be comfortable and automatic when you travel elsewhere. As they say, "Practice Makes Perfect".
My Outdoor Eyes Photography Blog
Beech Forest Trail In Provincetown On Cape Cod Is Gorgeous!
If you're looking for a gorgeous and fairly easy hike in Provincetown, try the Beech Forest Trail. It is just beautiful as it meaders on a boardwalk over the marshes, through a beech tree forest, through a pine forest and then around the lake. It doesn't get much prettier, especially in the fall when the … Continue reading Beech Forest Trail In Provincetown On Cape Cod Is Gorgeous! →


Slender Fragrant Goldenrod Wildflowers At Fort Hill On Cape Cod.
I never knew there are so many different varieties of Goldenrod wildflowers. Wow! I saw this Slender Fragrant Goldenrod a couple of weeks ago while hiking at Fort Hill. Although I've seen Goldenrod for years and years, I don't remember seeing this one before. It looked so delicate. Slender Fragrant Goldenrod has 1/4″ tiny yellow … Continue reading Slender Fragrant Goldenrod Wildflowers At Fort Hill On Cape Cod. →


Eight Great Blue Herons On Nauset Marsh On Cape Cod.
There was a huge flock of birds out on Nauset Marsh, part of the National Seashore,  the other day. Many were Double-Crested Cormorants with some Seagulls and Egrets mixed in. I was so surprised when I got home and counted 8 Great Blue Herons on the far shore. I wonder what brought them all together… … Continue reading Eight Great Blue Herons On Nauset Marsh On Cape Cod. →