If you can't photograph at home, then how do you expect to photograph anywhere else? Some people believe that it is the subject or the camera that makes a great photograph. You can take a terrible photograph in Africa and you can take a terrific photograph in your own backyard. It is never the subject... it is always the photographer.

It is quite similar to the golfer who hits the ball poorly at the practice range. His answer is always the same. "This is only practice. Once I get on to the golf course, I will be MUCH better." How is that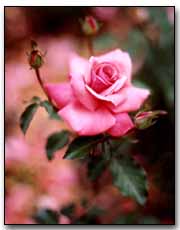 golfer going to be better when the controlled practice is so irregular? That golfer will continue to hit the same troubled shots on the golf course because of the terrible practice procedures. It is the same in photography. Practice well, and when the opportunity comes, the photographs will be similar to the practice.

So, how do you get ready? Start right now and go outside in your own backyard and practice. If you constantly take good photographs of the birds, squirrels and the flowers in your yard, then you will continuously become a better photographer. Stretch you ability and start with a plan. Try to photograph sometime different each day in your own backyard. Learn how to carefully approach wildlife (read the Outdoor Eyes Section). There's obviously a tremendous advantage with digital cameras. It is similar to hitting practice golf balls in your backyard. You get instant feedback and you can change your style and method immediately. With film, practice is a little harder... but it still possible. Take a trip to your local park and take photographs of landscapes to practice your depth of field.

Also, don't forget to practice during early morning sunrise and late afternoon sunset. Not only will you see different lighting, but there will also be different wildlife available to photograph. Take photographs during the rain and snow. Once you are comfortable in all these situations, you will be comfortable and automatic when you travel elsewhere. As they say, "Practice Makes Perfect".
My Outdoor Eyes Photography Blog
Cliff Pond In Nickerson State Park On Cape Cod Was Spectacular!
We hiked out around Cliff Pond the other day and the views were unbelievable. If you stood one way, you got the first photograph. If you turned around, you got the 2nd one. (Click on blog link to see other photo.) Both are pretty spectacular, don't you think? Great place to take photographs!


Yellow-Rumped Warbler At Our Feeder On Cape Cod.
I saw a splash of bright yellow at our feeder and quickly got my camera. I have learned that it is better to get my camera first and get my binoculars second, as the bird might fly away quickly. (Click on blog link to see other photo.) There, at my feeder, was a beautiful Yellow-rumped … Continue reading Yellow-Rumped Warbler At Our Feeder On Cape Cod. →


The Forest Is Still So Green In The Middle Of Winter Here On Cape Cod.
It's amazing to see how green the forests are here on Cape Cod  in the middle of winter. The Bearberry leaves, which  you can see in the first photograph, still provide much green ground cover. (Click blog link to see other photo.) I just did a bit of research and found that Bearberries will lose … Continue reading The Forest Is Still So Green In The Middle Of Winter Here On Cape Cod. →