-- Outdoor Eyes Daily Blog --
Marconi Beach Overlook On Cape Cod.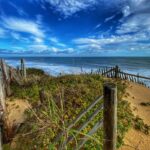 I always seem to take the same iconic photograph at the overlook to Marconi Beach. I tried a different angle this time and I think I like it. You can see the broken down fence right at the edge of the dune. What do you think?


VISIT THE OUTDOOR EYES BLOG