On-The-Go Photography (OTG) seems to imply a conflict of terms. How can a person be on-the-go and still produce great photographs? Why must great photographers always have to wait and be patient? OTG Photography is for the person who wants to balance photography with the in-the-moment nature experience. Once a photograph becomes the main objective, the in-the-moment nature experience becomes secondary.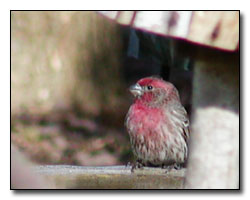 OTG Photography is for the person who wants to travel light (under 4 pounds), travel simply and still wants to take great photographs.

The photographs displayed on Outdoor Eyes were taken with a digital camera. The image quality was reduced in order to speed up the loading time on the Internet. This has no reflection on the original quality of the photographs.

You can forget about your conventional tripod, your bulky camera bags, your padded backpacks and your multiple lenses. With OTG Photography, you will learn how to use the minimum to get the maximum photography opportunities... while still balancing the in-the-moment nature experience. If you ever read about William Henry Jackson, one of the best-known of early landscape photographers, you would have learned of the difficult process he had to endure to photograph. He had to travel by horseback, then by mule and his equipment weighed over 300 pounds. He had to unload the equipment, set up camp, prepare the glass plate and on and on. Yet, even today, his photographs are still of exquisite beauty. He really knew how to use the minimum to produce the maximum.


I admit... there will be some limitations and some disappointments with OTG Photography. But that occurs in every situation. You WILL NOT take every photograph perfectly and you WILL miss out on some great photography opportunities. But, whatever photography opportunity you might miss, you still will capture that moment in your mind's eye (where film and digital could never approach). You will see more and you will enjoy photography more because you will maintain that fine balance of seeing nature, being a part of nature and taking the perfect photograph.
My Outdoor Eyes Photography Blog
Another Cool Glacial Rock At Nickerson State Park On Cape Cod.
We were taking a hike around Flax Pond in Nickerson State Park and saw this large glacial rock on the side of the trail. It is split in two parts…maybe from water and ice? Maybe during the Ice Age? It was pretty cool. What do you think?


Rock Harbor On Cape Cod In Black And White.
I loved this black and white photograph that Phil took of Rock Harbor early one morning last week. It looks like a "retro" photo of the area. You can see all the beach grass that washed up on the dock from the high tides. What do you think?


Fort Hill On Cape Cod Is Awesome Any Time Of The Year!
Fort Hill, part of the National Seashore,  is a wonderful place to go… any time of the year. You can hike or walk or sit on the bench and enjoy those spectacular views of Nauset Marsh. You can take a walk on the boardwalk across Red Maple Swamp down to Hemenway Landing and see the … Continue reading Fort Hill On Cape Cod Is Awesome Any Time Of The Year! →