My choice in a snowshoe was made after a lot of research. The snowshoe that I chose has performed even
better than I anticipated. I had certain requirements that I needed in a snowshoe and you should decide what you need, too. The main requirement was that the snowshoe had to be versatile enough to take me wherever I might want to go: rugged climbs or just an easy walk through the woods. The following describes some of the features of the MSR Ascent Snowshoe that I selected. The numbers on the snowshoe image on the right refers to the features listed below.

1. Deck Platform:
The nonstick deck is made with a one-piece injection-molded deck that sheds both snow and ice. The deck is unusually small (8" x 22"). When walking, you have no indication that you even have snowshoes on. The snowshoe is relatively lightweight. The deck is extremely durable in resisting scratches or nicks. Some people feel that a molded snowshoe makes more noise on hard packed snow or ice than a traditional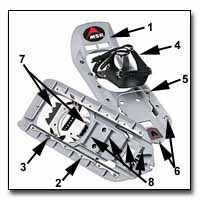 snowshoe, but that has never been an issue for me.

2. Steel Traction Bars:
The serrated edges run the length of the shoe on both sides and grip the snow for unmatched traction while traversing. The serrated edges and the crampons are designed primarily to resist backsliding on steep terrain. I have climbed up and down steep slopes in both powder and ice and the snowshoe performed extremely well.

3. A Pair Of Steel Spikes Crampons:
The steel spikes add additional gripping ability in hard pack or icy conditions.

4. Flexible Binding:
The binding includes 3 straps over the front of the boot and 1 strap in back of the boot. The straps are easily locked while wearing mittens which is an important feature. The straps lock the snowshoe
securely with the boot. The straps are very flexible in low temperatures and resist snow buildup. To prevent cutting off circulation on your feet, you can use the straps with light tension and they perform fine. The bindings support from small to large boot sizes.

5. Televator Heel Lifter:
When needed, they support the heel to reduce calf fatigue on steep slopes. The bars flip up easily when needed to raise the heel of the boot above the snowshoe. They are easy to use and can be raised while wearing mittens by raising a little black tab on the heel lifter.

6. Modular Design For Deep Powder & Ice:
Modular 4" and 8" flotation tails convert the snowshoes into three different type of snowshoes, thus eliminating the need for multiple pairs of snowshoes. The flotation tails are easy to slide on to the back with mittens on and are held into place with one quick turn of a knob. This allows you the flexibility of using a 23" snowshoe most of the time until real deep powder necessitates adding a
flotation tail.

7. Durable Steel Crampons:
The hardened steel crampons with four aggressive front teeth and three rear teeth offer unrivaled traction whether in powder or black ice. They move each time when the foot is lifted to tightly grip the snow or ice.

8. Braking Bars:
The quad-point braking bars work in conjunction with the steel crampons to stop you in your tracks if you happen to start sliding backward or forward.

Whatever snowshoe you decide to purchase, decide on what you will be using the snowshoe for. If any of the above features are important to you, make sure that your choice of snowshoe has those features. Whatever snowshoe you choose, keep in mind that you will also need poles. Choosing the correct snowshoe for you will open up more opportunities in experiencing nature.
My Outdoor Eyes Photography Blog
Looking Out On Herring Cove Beach In Provincetown On Cape Cod.
The skies were so pretty looking out toward Race Point from Herring Cove Beach in Provincetown. So peaceful… not a soul in sight.


Love The Sky At First Encounter Beach On Cape Cod!
The sky was just beautiful at First Encounter Beach the other day. I couldn't decide if I liked the horizontal or vertical one better. (Click on blog link for other photo.) What do you think? Isn't the sky so pretty?


Pretty Reflections At The Wellfleet Bay Wildlife Sanctuary
The trails were all open, but many were one way, and the fall colors were amazing. I loved this photograph of  Silver Spring from one of the little docks. The reflections were so vibrant! What do you think?