Shooting macro is a challenging and enjoyable aspect of digital photography. But what equipment do you need to get good results? Over the past five years I have progressed to using my ideal setup, particularly for floral photography, that is my Canon Digital Rebel plus a dedicated Canon macro lens, which was purchased used but in mint condition.


Amaryllis are particularly difficult to capture but with the above, I was able to get the following shot with natural lighting.

However, by a curious set of circumstances, my first, secondhand digital camera, a Ricoh RDC-7 has made its way full circle back to me, and I thought it would be fun to compare the results. This little camera impressed me with its macro capabilities from the outset. I sold it on to a colleague when I bought a Canon S50 and she in turn sold it on to another colleague when she upgraded her camera. Finally the second colleague offered the camera back to me when she replaced it, as she knew I had retained my 'soft spot' for it.

The following images were taken at the same time as the first image.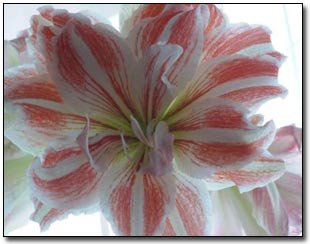 I guess if you look closely you will see more noise and of course there is no control over depth of field, but I believe these images show that you do not need to have the top end of the range in either camera or lenses to be able to produce effective macro shots.


Click the author's gallery image on the top of the page to view the author's photographs.
My Outdoor Eyes Photography Blog
Perfect Time For A Hike On White Cedar Swamp Trail On Cape Cod.
White Cedar Swamp Trail in Wellfleet is the perfect hike for the fall with all of the changing colors. This was a beautiful day, sunny and windy. It's a fairly easy hike with the trail down to the swamp, a boardwalk over the swamp and then an old road back to the trailhead. So pretty, … Continue reading Perfect Time For A Hike On White Cedar Swamp Trail On Cape Cod. →


Vibrant, Yellow Common Tansy Wildflower At Fort Hill On Cape Cod.
The Common Tansy wildflower is one of the last ones to bloom in late summer or early fall. I saw this one a few weeks ago by the lower parking lot at Fort Hill. It is such a delicate, little wildflower in a vibrant yellow. Love the button-like flowers. Have you ever seen a Common … Continue reading Vibrant, Yellow Common Tansy Wildflower At Fort Hill On Cape Cod. →


Love The Bridge Over Nauset Marsh On Cape Cod.
One of our favorite walks is from Doane Rock to Coast Guard Beach. Each time you go, it is so different. You can see that fall is here with the marsh grasses turning a yellowy brown. So pretty, don't you think? Have you ever walked over this bridge?