Shooting macro is a challenging and enjoyable aspect of digital photography. But what equipment do you need to get good results? Over the past five years I have progressed to using my ideal setup, particularly for floral photography, that is my Canon Digital Rebel plus a dedicated Canon macro lens, which was purchased used but in mint condition.


Amaryllis are particularly difficult to capture but with the above, I was able to get the following shot with natural lighting.

However, by a curious set of circumstances, my first, secondhand digital camera, a Ricoh RDC-7 has made its way full circle back to me, and I thought it would be fun to compare the results. This little camera impressed me with its macro capabilities from the outset. I sold it on to a colleague when I bought a Canon S50 and she in turn sold it on to another colleague when she upgraded her camera. Finally the second colleague offered the camera back to me when she replaced it, as she knew I had retained my 'soft spot' for it.

The following images were taken at the same time as the first image.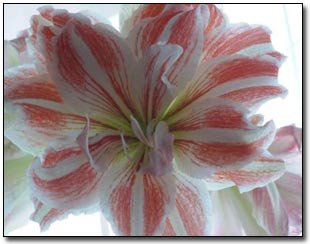 I guess if you look closely you will see more noise and of course there is no control over depth of field, but I believe these images show that you do not need to have the top end of the range in either camera or lenses to be able to produce effective macro shots.


Click the author's gallery image on the top of the page to view the author's photographs.
My Outdoor Eyes Photography Blog
Make Your Own Trails On The AllTrails App On Cape Cod Or Anywhere.
We've had so much fun with the AllTrails App. At first we followed many of the trails in our area and then we decided to try and make some of our own.  (Click on blog for full photo.) On the AllTrails App you can record a hike, name it, describe it, add photos and  rate it. … Continue reading Make Your Own Trails On The AllTrails App On Cape Cod Or Anywhere. →


Trail To Wellfleet Harbor Beach On Cape Cod.
Any of the trails to the beaches here on Cape Cod are pretty amazing. This trail leads out to one of the beaches on Wellfleet Harbor. So pretty, even in winter. You can even see Jeremy Point in the distance. Have you ever seen the beaches on Wellfleet Harbor?


Cliff Pond In Nickerson State Park On Cape Cod Was Spectacular!
We hiked out around Cliff Pond the other day and the views were unbelievable. If you stood one way, you got the first photograph. If you turned around, you got the 2nd one. (Click on blog link to see other photo.) Both are pretty spectacular, don't you think? Great place to take photographs!