Shooting macro is a challenging and enjoyable aspect of digital photography. But what equipment do you need to get good results? Over the past five years I have progressed to using my ideal setup, particularly for floral photography, that is my Canon Digital Rebel plus a dedicated Canon macro lens, which was purchased used but in mint condition.


Amaryllis are particularly difficult to capture but with the above, I was able to get the following shot with natural lighting.

However, by a curious set of circumstances, my first, secondhand digital camera, a Ricoh RDC-7 has made its way full circle back to me, and I thought it would be fun to compare the results. This little camera impressed me with its macro capabilities from the outset. I sold it on to a colleague when I bought a Canon S50 and she in turn sold it on to another colleague when she upgraded her camera. Finally the second colleague offered the camera back to me when she replaced it, as she knew I had retained my 'soft spot' for it.

The following images were taken at the same time as the first image.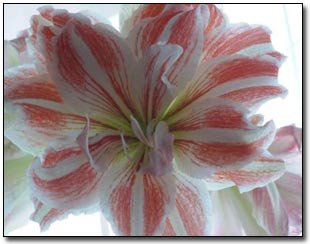 I guess if you look closely you will see more noise and of course there is no control over depth of field, but I believe these images show that you do not need to have the top end of the range in either camera or lenses to be able to produce effective macro shots.


Click the author's gallery image on the top of the page to view the author's photographs.
My Outdoor Eyes Photography Blog
The Osprey Are Back On Cape Cod!
As I was taking a walk to the beach  a couple of days ago, I heard that familiar sound that reminds me so much of summer… the sound of the Osprey calling. I looked up and there it was, flying right over me. I only got one photograph and this is it! We are so … Continue reading The Osprey Are Back On Cape Cod! →


Amazing Tree Roots At Nickerson State Park On Cape Cod.
Every time we hike by this tree I think I really should take a photo of these crazy roots. It's a fairly large tree so you wonder how only only a few of its roots are keeping it alive. Pretty cool, Don't you think?


Nauset Light Beach Waves On Cape Cod.
The waves at Nauset Light Beach were just beautiful. I loved this photograph of the beach with the ominous clouds in the background.What do you think? Have you ever been to Nauset Light Beach?