Sunday was such a beautiful day. It was bright and sunny after all of the snow in the days before. It felt good to get out and take a nice hike and do a little holiday shopping…seeing the pretty lights in town and listening to the Christmas carols along the street. We topped it off with a delicious homemade meatloaf dinner at Poppy's and had a nice visit with Rob. It was perfect…so nice and warm on such a cold night. We were tired and went home to get a good night's sleep as we wanted to get an early start to the next day.

We remembered hearing a tapping sound on the outside of the house about 11:30pm. Which neighbor was locked out of their home and needed assistance? We were ready to help out. We'd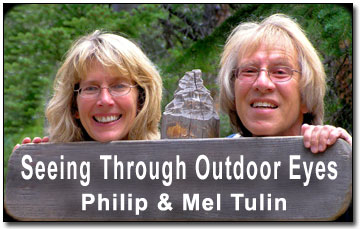 been asleep for a couple of hours already. Or, maybe, it was the wind… but there wasn't any wind that night. The tapping sound started moving down the outside cedar siding on our home and was getting closer to our bedroom window. We wondered what it could be? Was it a gutter that had become loose? We lay in bed just listening and wondering.

All of a sudden we heard tapping on our bedroom window. Now, you have to realize that our bedroom window is about 10 feet high, 7 feet wide and the bottom of the window is about 1 foot off the ground. Plus, being on the side of a mountain, our bedroom sits down about 4 feet. We have a gorgeous view up Castle Mountain. Phil said "We finally got our answer!" I quickly put on my glasses. Our hearts were pounding with excitement! For us, the Estes Park nights are breathtaking because, from our bedroom window we can see all the huge rocks, the landscape, etc. due to the light from the stars, the moon and the reflection of the snow. About 2 feet away from us was the biggest 6 pointer Bull Elk that we had ever seen (and we have photographed many Elk). He just stared at us! And we stared back. Could he see us in the dark? Or was he seeing his own reflection in the window? This Bull Elk's head almost took up the whole window with his antlers… and the antlers kept tapping on the window as he lowered his head to eat more of the exposed grass. Plus, having our bedroom about 4 feet from ground level, he was looking down at us. He was really BIG!

We backed away slowly and he started eating the grass outside the window. After about a half an hour, he rounded the house and looked into our side window and then made his way down the mountain. Whew! Now we could back to bed and get some sleep! We were exhausted!

It was now about 3 hours later. The sound started again…under the bathroom window. No, it couldn't be. Why aren't the Elk sleeping this late at night? What was he doing out having dinner at this hour? A large head appeared as if to say, as Arnold said in his famous movie (The Terminator), "I'll Be Back!". Well, the food must've been pretty tasty because this time he brought his Bull friend (a 7 pointer). This new Bull Elk was even bigger than the first Bull Elk. It was the same routine except this time there were 2 of them. But this time he stopped at our lower level for some more grass. Tap, tap, tap on the lower side window as we watched him from about 2 feet away.

No photographs tonight as we were concerned that the light from the LCD on the camera might confuse the Elk.

It is truly amazing how light they are on their feet and how agile they are. They did not move even move a small stone from our many rock walls.

When they finally left, we got back into bed. Would we fall back asleep? Not a chance! What started out as such a nice, peaceful sleep turned into an exhilarating night…and one that we will never forget! We finally got our answer to the question that we had asked ourselves when we first built our house…would we ever lie in bed and look out and see and elk looking in our bedroom window? The answer is yes! But we still don't know why they were wandering around eating at night instead of sleeping. It must be a common theme between humans and wildlife… they have the munchies too.

"Seeing Through Outdoor Eyes" articles are available for newspaper syndication. Please click the "Contact OE" link below to inquire about including the weekly articles in your newspaper.