Nature really surprised us! We had planned an end of the year Outdoor Eyes hike along Black Canyon Trail so we could all enjoy the beautiful scenery. There were 3 people in the group who had just celebrated a "big" birthday, so we all thought it would be fun to go on a hike and then have a birthday celebration lunch at Ed's Cantina afterward. It would be a nice ending to a great summer and fall of hiking and meeting new friends.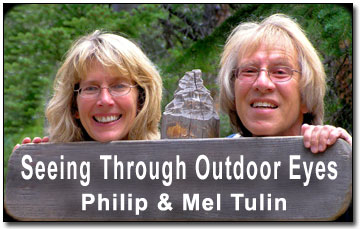 We started checking the weather on Thursday and it said a possibility of snow showers on Friday & Saturday. That would be just fine for our planned hike. Hopefully, the roads wouldn't be too slippery so everyone would be able to make it (a number of people were coming from the Denver area). We had 24 people who expected to participate and 12 people who indicated "maybe" on our Outdoor Eyes Website. Most of the people we had already known from previous hikes during the summer months. Wow! That was a lot of our friends, especially if they could all show up. And then there were our neighbors (David & Deb) who also planned to join us, especially to wish Phil a Happy 60th Birthday at Ed's Cantina.

Friday morning we woke up to abut 8-10" of freshly fallen snow. Looking out of our windows, it looked like a winter wonderland. But would the snow be too deep to hike in tomorrow? We quickly organized our gear and decided to try the trail by ourselves to see what it was like. The driving to the Lumpy Ridge trailhead was easy as the town had done a great job of plowing the roads and the parking lot. When we arrived, there was already only one other car in the parking lot. We put on our snowshoes and headed out. It was just spectacular winter wonderland of postcard photography. We hiked about 2 miles in, breaking the trail for our hike on Saturday. We thought that people could either hike or snowshoe, whatever they preferred. And the trail was now packed down for either boots or snowshoes. Phil sent out a last minute email updating everyone on the recent snows and suggesting that they bring snowshoes and gators. Then we went to bed wondering how many people would show up for the next day. The latest forecast said snow showers in the morning and steady snow by 1:00. Most of the people would drive in from Denver, Loveland, Longmont and Fort Collins so we were a bit concerned on how many people would be deterred driving in that weather.

We were up by 5:00am on Saturday to shovel our driveway and to check out the road. Looking outside, we figured there would be at least 4 of us there… Mel, Philip & our neighbors. When we approached the parking lot at 8:45am, we were amazed! There were already 6 cars there. Wow! This would be fun day. Within about 15 minutes, 15 people had arrived. The rest of the people were obviously deterred by the driving conditions. Dressed with snowshoes, gators, snacks and cameras... we were off on the hike. Photography was a must during this hike and everyone was anxious to get photographs of Lumpy Ridge and the Twin Owls draped in snow. The clouds were low today and some of the peaks were hard to see. It's very unusual to be able to snowshoe on the Black Canyon trail as the snow usually quickly melts along the ridge. We hiked out about 3 miles, stopping frequently to takes photographs. The experienced hikers led the way and the dedicated photographers lagged behind, trying to get that perfect photo. The groups is so diverse in age and backgrounds that no matter who you hike with, the conversation is always very interesting. Each hike is also likely to draw new people, so each hike is always very different.

After the hike, we all met at Ed's Cantina for our Outdoor Eyes Big Birthday Celebration. It was a great place to socialize after the hike and really get to talk to some of the people who we had just met or hadn't seen in a while. We sang Happy Birthday to Phil who turned 60, Tiffany who turned 40 and Anshie. Some of the newcomers were amazed at how much fun they had, and how friendly everyone was. We were thrilled at how many of our friends braved the weather because of their true love for the outdoors, the chance to hike or snowshoe a new trail and the possibility to photograph some amazing sights… and also to have fun with a great group of people.

When we got home, Tiffany had already emailed us that she had taken 323 photographs and it would probably take a while to through them all! It certainly was a lot of fun and a great way to celebrate a birthday! And I think we've convinced Phil of the need for some more great winter Outdoor Eyes events where we can enjoy winter hiking and snowshoeing here in the mountains.

"Seeing Through Outdoor Eyes" articles are available for newspaper syndication. Please click the "Contact OE" link below to inquire about including the weekly articles in your newspaper.
My Outdoor Eyes Photography Blog
Lots Of Sand At Nauset Beach On Cape Cod.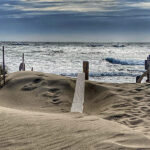 There is quite a bit of sand at Nauset Beach that has washed in or gotten blown in over the winter. You can see how the middle hand railing in the first photograph, looking out toward the water,  is pretty much covered by sand. (Click on blog link for other photo.) In the 2nd photograph … Continue reading Lots Of Sand At Nauset Beach On Cape Cod. →


Colorful Bobolink At Fort Hill On Cape Cod.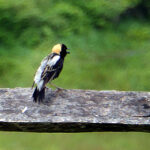 It was such  treat to see this Bobolink land on the fence at Fort Hill the other day.  It was pretty far away but we were able to identify it and get a couple of photos. It was the first one that we've seen on the Cape and the first one that I've seen in … Continue reading Colorful Bobolink At Fort Hill On Cape Cod. →


It Feels Like Summer On Cape Cod!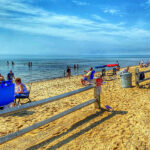 What crazy weather we've been having! Two weeks ago I had my winter parka on with hat and mittens and today it's warm enough to sit on the beach! (Click on blog link for other photo.) Yesterday started out cool and cloudy, but by 2:00 it had changed to sunny, hot and humid. I took … Continue reading It Feels Like Summer On Cape Cod! →