You don't have to read every field guide to learn about nature and wildlife. All you have to do is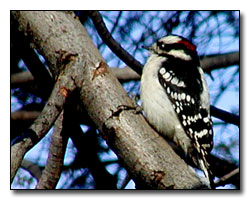 observe and question. Nature is not as random as people tend to believe. Why does one particular person have more nature experiences? Is that person just plain lucky? That person has learned to live in-the-moment and observe all the elements that created that opportunity: temperature, wind speed, wind direction, humidity, time of day, etc. And all the elements of that particular moment have been saved in a memory card that can be recalled for another nature opportunity. Think about a time you walked outside at the beach and smelled the ocean air, looked at the brilliant red sun and felt the warmth on your arms. You definitely knew that it is about to be a great beach day because of your stored memory card that related to the elements of a perfect beach day. Store those memory cards and when you recall and use them, you will have more nature opportunities.
My Outdoor Eyes Photography Blog
Nauset Beach On Cape Cod, Looking South Toward Chatham.
When you look at the views on Nauset Beach, they are so different looking north and looking south. This photograph, looking south toward Chatham, was a cloudy day but you could see the the sun peeking out from just above the horizon. Pretty don't you think?


Higgins Pond In Nickerson State Park On Cape Cod Was Gorgeous!
We decided to take a hike after breakfast the other day as the weather was supposed to turn with wind, rain and a bit of snow in the forecast. (Click on blog link to see other photos.) We had never hiked the Higgins Pond Loop Trail at Nickerson State Park, so we headed out. What … Continue reading Higgins Pond In Nickerson State Park On Cape Cod Was Gorgeous! →


The AllTrails App Has Great New Feature For Hiking On Cape Cod Or Anywhere.
We downloaded one of the hikes at Nickerson State Park and started out the other day. We were only into the hike a couple of minutes when we heard a beep on the phone app. There was an alert that we had gone "off-route." What a wonderful addition to the AllTrails app. You can leave … Continue reading The AllTrails App Has Great New Feature For Hiking On Cape Cod Or Anywhere. →