You don't have to read every field guide to learn about nature and wildlife. All you have to do is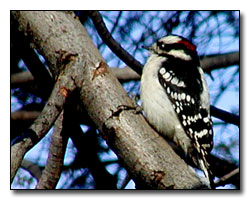 observe and question. Nature is not as random as people tend to believe. Why does one particular person have more nature experiences? Is that person just plain lucky? That person has learned to live in-the-moment and observe all the elements that created that opportunity: temperature, wind speed, wind direction, humidity, time of day, etc. And all the elements of that particular moment have been saved in a memory card that can be recalled for another nature opportunity. Think about a time you walked outside at the beach and smelled the ocean air, looked at the brilliant red sun and felt the warmth on your arms. You definitely knew that it is about to be a great beach day because of your stored memory card that related to the elements of a perfect beach day. Store those memory cards and when you recall and use them, you will have more nature opportunities.
My Outdoor Eyes Photography Blog
Pretty White Mouse-Ear Chickweed On Cape Cod.
Mouse-ear Chickweed is a wildflower with tiny, white 1/2″ flowers.   These flowers have 5 deeply notched petals and 5 prominent sepals. The 6-12″ plants grow  from May through September so you should be able to see them this summer. I saw many of them along the trails at Fort Hill. It is often called … Continue reading Pretty White Mouse-Ear Chickweed On Cape Cod. →


Least Terns On Coast Guard Beach On Cape Cod.
We saw quite a few Least Terns on Coast Guard Beach the other day. They are New England's smallest tern at 9." They nest in small colonies and make their nests in the sand by scraping it. (Click link for another photograph.) Beautiful bird, don't you think? Love the food in his bill! Have you … Continue reading Least Terns On Coast Guard Beach On Cape Cod. →


Tranquility At Boat Meadow Beach On Cape Cod.
It was a gorgeous afternoon at Boat Meadow Beach and the perfect day to enjoy the tranquility that it has to offer. I loved this photograph of this 2 masted sailboat and the magnificent clouds in the sky. The colors were spectacular! What do you think?