It makes absolutely no sense to purchase an expensive tent if you don't know how to keep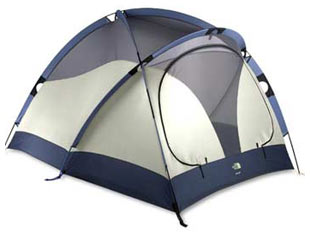 your tent safe. Take care of your camping tent and your tent will take care of you. The following are some helpful hints and tips to help you maintain your camping tent.

Like all good outdoor gear, the tent will last as long as take good care of it. The only thing that you will see over the years is new tent improvements with the newest models. But an older tent is like a fine wine... it improves with age with all the hiking and camping stories that go along with the tent

Waterproof the tent
Even though the manufacturer has said that the tent is waterproof and all the seals have treated and sealed, it might not be so. Better be safe then sorry. Contact the manufacturer and find out which seam sealer the manufacturer recommends. Then seal all the seals.

Bring extra parts
Bring any extra tent parts that might help you if the tent needs some repair - extra zipper, needle, duct tape, etc. A little preparation in advance will help out in the end.

Know how to set up the tent
Practice makes perfect and it is easier to practice in your home or outside on the lawn when there isn't any terrible weather to make the job of setting up the tent any harder than is necessary. By practicing now, you have less chance of ripping, bending or breaking any part of the tent.

Bring proper stakes and use them
If you are camping on a sandy beach or snow, bring the bags that are buried in the sand/snow to stake the tent as regular stakes might not work properly. If you are camping on land, grass, etc., bring the stakes that will work the best. Stake according to the weather as a huge gust of wind and rain will creat havic to a tent that is not staked. Make sure the correct tension is applied to all the stakes.

Avoid direct sunlight
The Ultraviolet light from direct sunlight will break down the tent fabric. Avoid leaving the tent in direct sunlight for long periods of time.

Ground cover
A tent footprint, tarp, ground cover will protect your tent from objects ripping through the bottom of the floor of the tent as well as protect the tent from dirt, etc. It also helps keep water out of the tent. The added layer will add some extra comfort for the floor inside.

Keep ventilation going through the tent
When you sleep and stay in a tent, moisture might accumulate inside. If a window or flap remains open a little bit, it will keep condensation from the inside of the tent.

Clean and dry the tent after use
Obviously a tent can't be totally cleaned while hiking, kayaking, car camping, etc. Make sure that the tent is not packed away while it is still wet. Try to dry off the tent as much as possible and if the tent has to be packed away a little wet, unpack it as soon as possible to help dry it out again.

Clean tent thoroughly when done
Use the manufacturer's recommendations on how to clean the tent (usually warm water). Make sure there is no mildew or mildew smell on the tent. Do not use any cleaning solvents or chemicals as they can deteriorate the tent. Pack the tent away only after it has thoroughly dried.

Have fun backpacking and don't forget to take care of your tent when you return from your hike.
My Outdoor Eyes Photography Blog
Eastern Kingbird At Our Bird Bath On Cape Cod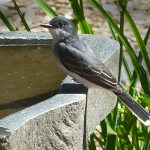 What a treat it was to see this Eastern Kingbird at our bird bath her on Cape Cod. We saw our first eastern Kingbird about a month ago at the Wellfleet Bay Wildlife Sanctuary. We had never seen one before. So now to see one in our own backyard is really cool!  


The Yuccas Are Blooming And Hardy Here On Cape Cod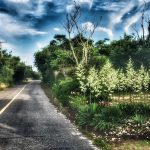 The Yuccas are absolutely stunning this year on Cape Cod. I wonder if it's because of all the moisture that we've had. I saw this "pastoral scene" with the luscious Yuccas on one of my early morning bike rides around to the different beaches. It's amazing what you can see when you're not worried about … Continue reading The Yuccas Are Blooming And Hardy Here On Cape Cod →


Baby Baltimore Oriole In The Bird Bath On Cape Cod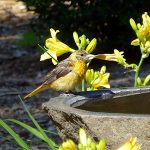 We have so many baby Baltimore Orioles in our yard this summer! It is so much fun. This little guy was still wet from his bath. The coloring of the babies is so different from the adults with almost muted yellow and brown coloring. I loved the yellow Daylilies in the background. Cute little guy, … Continue reading Baby Baltimore Oriole In The Bird Bath On Cape Cod →


Purple Climbing Nightshade Wildflower At Fort Hill On Cape Cod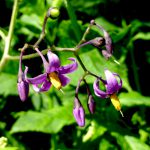 The Climbing Nightshade wildflowers, also known as Bittersweet Nightshade,  are just beautiful at Fort Hill in Eastham on Cape Cod. You can see them on the trail near the Cutting Rock or on the trail leading up to the overlook parking lot. Climbing Nightshade wildflowers are a climbing vine with purple shooting star-shaped flowers of … Continue reading Purple Climbing Nightshade Wildflower At Fort Hill On Cape Cod →


American Copper Butterfly At Fort Hill On Cape Cod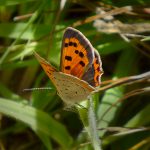 I almost missed this  little American Copper butterfly at Fort Hill on Cape Cod. He was pretty camouflaged until he opened his wings for a second and I saw the beautiful orange color and black spots. American Copper butterflies are small, only about 1″ with orange forewings and about 8 black dots and a black … Continue reading American Copper Butterfly At Fort Hill On Cape Cod →
Gorgeous Orange Day Lilies on Cape Cod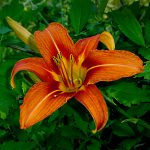 The Daylilies here on Cape Cod are gorgeous this summer. They are growing everywhere and almost seem like a wildflower on the sides of the roads. I loved the coloring of this Daylily…so vibrant a deep orange color! What do you think?