Why is this terrible photograph being displayed with this article? Well, here's the rest of the story. Everyone who takes up photography has a few photographs that just seem to have gotten away. The elusive photograph that never seems to cooperate. The sun is never in the right position in the sky, the clouds roll in, an animal moves and on and on. Some of those moments seem to remain with us forever as we recall the ones that got away.

Well, for many years, I have wanted to photograph the Pileated Woodpecker. I have seen many, but never close enough to photograph. Most of the time the bird has been at a distance and high in a tree. The
bird is a big bird, 16"-17" long with a wingspan of 29", so you do not have to be as close as a songbird. Since I never use a blind, the bird usually sees me approaching and moves on. As I was walking through the woods, I heard the loud drum of the Pileated Woodpecker. It was nearby so I swiftly moved toward the sound. I was getting close when the noise stopped for a moment. "Had I scared the bird away?", I wondered. Just then, right above me, I heard the loudest drum of all times. My wife, who was with me, looked up. Twenty feet above us was the Pileated Woodpecker pounding the dead tree. My wife picked up her binoculars and watched in awe. I held my camera to my face and started to take photographs. Then, I realized, that the sun was in my eyes, the bird was in the shade and all the elements that create a great photograph were working against me. I took 3 photographs, dropped my camera and proceeded to raise my binoculars to my eyes.

I would not miss this moment, even if it meant missing the opportunity to photograph the Pileated Woodpecker. My eyes would create a photograph that would remain with me for the rest of my life. If I was stubborn and tried to photograph the bird, I would have had no photographs and I would have missed my opportunity to see the bird up close. I made the right decision and I have no regrets. Sometimes, when you are faced with similar circumstances, drop your camera. You, too, will have made the right choice.
My Outdoor Eyes Photography Blog
Eastern Kingbird At Our Bird Bath On Cape Cod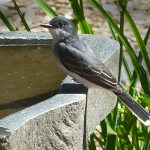 What a treat it was to see this Eastern Kingbird at our bird bath her on Cape Cod. We saw our first eastern Kingbird about a month ago at the Wellfleet Bay Wildlife Sanctuary. We had never seen one before. So now to see one in our own backyard is really cool!  


The Yuccas Are Blooming And Hardy Here On Cape Cod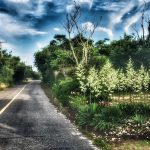 The Yuccas are absolutely stunning this year on Cape Cod. I wonder if it's because of all the moisture that we've had. I saw this "pastoral scene" with the luscious Yuccas on one of my early morning bike rides around to the different beaches. It's amazing what you can see when you're not worried about … Continue reading The Yuccas Are Blooming And Hardy Here On Cape Cod →


Baby Baltimore Oriole In The Bird Bath On Cape Cod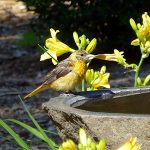 We have so many baby Baltimore Orioles in our yard this summer! It is so much fun. This little guy was still wet from his bath. The coloring of the babies is so different from the adults with almost muted yellow and brown coloring. I loved the yellow Daylilies in the background. Cute little guy, … Continue reading Baby Baltimore Oriole In The Bird Bath On Cape Cod →


Purple Climbing Nightshade Wildflower At Fort Hill On Cape Cod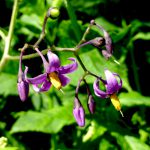 The Climbing Nightshade wildflowers, also known as Bittersweet Nightshade,  are just beautiful at Fort Hill in Eastham on Cape Cod. You can see them on the trail near the Cutting Rock or on the trail leading up to the overlook parking lot. Climbing Nightshade wildflowers are a climbing vine with purple shooting star-shaped flowers of … Continue reading Purple Climbing Nightshade Wildflower At Fort Hill On Cape Cod →


American Copper Butterfly At Fort Hill On Cape Cod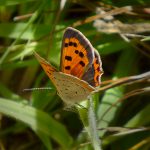 I almost missed this  little American Copper butterfly at Fort Hill on Cape Cod. He was pretty camouflaged until he opened his wings for a second and I saw the beautiful orange color and black spots. American Copper butterflies are small, only about 1″ with orange forewings and about 8 black dots and a black … Continue reading American Copper Butterfly At Fort Hill On Cape Cod →
Gorgeous Orange Day Lilies on Cape Cod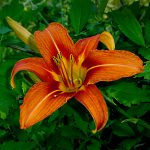 The Daylilies here on Cape Cod are gorgeous this summer. They are growing everywhere and almost seem like a wildflower on the sides of the roads. I loved the coloring of this Daylily…so vibrant a deep orange color! What do you think?