Sometimes you might want to combine monotone with color to produce a new look for your photograph. The history brush is very effective in helping to create that combination.
How To Apply Monotone Using The History Brush
Note: The history brush will not work properly if the photograph is resampled or the image size has been changed. The snapshots that are indicated below are not saved when the finished photograph is saved.

1. Open the file. Choose File --> Open --> Enter the image name to be fixed.
2. Hold the Ctrl Key down and hit the + key a few times to zoom the image to 100%.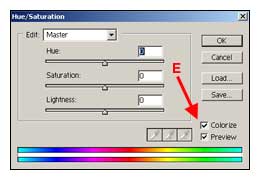 3. Choose Image --> Adjustment --> Hue/Saturation. Click the colorize box (E) and a check will appear. Click OK. The history screen will display the unsharpen mask as indicated in the image below (A).
4. Click the camera located on the bottom of the history screen (B). A snapshot of the photography will appear named as Snapshot 1 (B).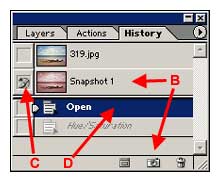 5. Select the history brush from the tool box and choose the brush size needed.
6. Click the box on the left side of Snapshot 1 (C). Click open on the history screen and the word open will be highlighted in blue (D).
7. Slowly paint the area that you want to appear in a monotone. You might want to use the Magic Wand to help isolate the sections that need to be painted.
8. You can add additional snapshots at any time if your image needs additional editing.
9. Save the image.

My Outdoor Eyes Photography Blog
Beautiful Greater Yellowlegs At Hemenway Landing On Cape Cod
Phil and I had just taken a hike at Fort Hill when we stopped at one of our favorite benches at Hemenway Landing, also part of the National Seashore. It looks out over Nauset Marsh and you can see Coast Guard Station in the distance. All of a sudden we heard a familiar call and … Continue reading Beautiful Greater Yellowlegs At Hemenway Landing On Cape Cod →


Watch Out For Those New Sandbars At the Cape Cod Beaches!
There are so many new sandbars on the Cape Cod beaches because of the ferocious winter storms that moved the sand everywhere. It was a bit unnerving to watch this family wade through the water out to the sandbar yesterday. It was very cool on the beach. We had our winter jackets on with the … Continue reading Watch Out For Those New Sandbars At the Cape Cod Beaches! →


The Goldfinches Are Turning Vibrant Yellow On Cape Cod
It's so much fun to watch the Goldfinches as they change from a drab yellowy-brown in the winter to a bright yellow for the summer. These two Goldfinches were getting a drink at our bird bath. They lean down and get a drink of water and then put their heads back and swallow. So cute, … Continue reading The Goldfinches Are Turning Vibrant Yellow On Cape Cod →