The Weather:
Wildlife tends to relate to the weather in the same way that we do. When it is cold, wildlife tends to stay in a covered area to remain warm. In hot weather, wildlife tends to stay in a cool, shady area. Their sense of smell is changed so they are more fearful of the danger that potentially lurks in the outdoors. During rain storms, wildlife also tend to remain inactive. Once the storm is over or the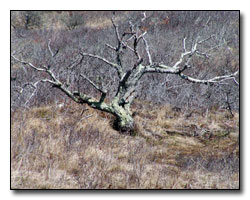 temperature changes, much wildlife activity will be seen.

The Time Of The Day And The Seasons:
There is pertinent information of the migration and hibernation habits of wildlife in many of the field guide books. Refer to the guides for the time of day that the wildlife are on the move. If you are visiting an area at 12:00 noon, don't expect too many bird photographs. It is very important to know when the best time of the day or season is to view certain wildlife or your efforts will be very disappointing. Study in advance and you will increase your odds of success.

The Wind:
Don't place yourself between the wildlife and the wind direction trying to photography wildlife. In other words, don't let the wind carry your scent toward wildlife since they will possibly move toward a safer area.

My Outdoor Eyes Photography Blog
This Wild Turkey Is Loving Our Birdseed On Cape Cod
This big ole Turkey comes around every day now to feast on the seeds  that the other birds drop on the ground while they are feeding. He's no dummy! He gets free food with very little effort and he sure does love our yard! Ha!


Gorgeous Waves At Coast Guard Beach On Cape Cod
The wind was blowing and the waves were kicking up on Coast Guard Beach, part of the National Seashore. It was finally warm enough that you didn't need a hat and mittens! Is spring finally here?


Provincetown, Massachusetts To California Is A Long Way!
There is a really cool sign on Highway 6 as you drive out of Provincetown on Cape Cod. It says that Long Beach, California is 3,652 miles away. Wow! That is a long way away from the Atlantic Ocean to the Pacific Ocean! Pretty cool sign, don't you think?