Nature is not random and it is beautifully proven out by the squirrels. During the next week, spend about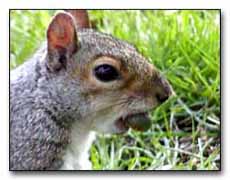 20 minutes in your own back yard and observe squirrels. You will notice a very interesting pattern. The squirrels have a tree to tree, branch to branch, roof to roof highway that they always seem to go on. With thousands of combinations of branches and trees to jump and run on, they always seem to pick the same route. So, if you didn't recognize this pattern before, what else did you not recognize? Once you've identified the route, try to take an anticipated midair photograph of where you expect that squirrel to be. It will prepare you for "In-The-Moment Photography". Understanding that nature is not random will give you more wildlife photography opportunities.

My Outdoor Eyes Photography Blog
Three Ponds Hike in Orleans On Cape Cod
We've had some gorgeous days for fall hiking here on Cape Cod. This Three Ponds hike is really pretty as it takes you along the lake's edges and through the woods. It is a perfect hike for the whole family! Phil took this photograph as I was enjoying the beautiful fall day along the trail, … Continue reading Three Ponds Hike in Orleans On Cape Cod →


Lots Of Arctic Terns On The Sandbar On Cape Cod
The sandbar off of Coast Guard Beach, part of the National Seashore in Eastham, was filled with Arctic Terns. They would stand there for a bit and then all fly off and then all fly back again. I'd never seen so many congregate in one space like that. It was pretty cool. Maybe they were migrating … Continue reading Lots Of Arctic Terns On The Sandbar On Cape Cod →


Salt Pond Trail In Eastham On Cape Cod Was So Pretty
The trail along the Salt Pond by the National Seashore Visitor's Center in Eastham was so pretty this fall day. You never know what you might see. The sun was shining brightly on Nauset Marsh. We even saw a few Cabbage White butterflies still flying about.