Night photos can take on a somewhat magical quality you may find lacking in normal daytime photography. Amazing night pictures certainly can attract attention. As the sun goes down, however, it becomes harder to capture images without the proper equipment and techniques.

When your digital camera receives less light, it cannot absorb the surroundings as well in the resulting photographs. Some pictures may turn out too dark. Others can be too blurry. Your camera requires more time to absorb enough light to create an effective picture, so any shaking of the device will result in photographs lacking sharpness.

To compensate for the lack of lighting, here are several things you can do with most middle and high-end digital cameras to get the results you need.

You may think that professional photographers take a large amount of time to set up a shot, perform complex calculations, talk about all sorts of topics such as f-stops, shoot one photograph that accurately represents their interpretation of a particular scene, and then leave.

While most of this may be true, the last part - only taking one photo - is far from it. Many, if not most, professional photographers commonly take a multitude of shots for every subject! Traditional photographers can go through rolls and rolls of film on a single shoot, and digital photographers may use gigabytes of memory.

Professionals know that no matter how well everything has been factored in when setting up a shot, 'stuff happens'. It is better to take time shooting a particular subject ten times and get one outstanding photograph than to take one or two photos that turn out blurry or dull.

Most photographers perform a trick called bracketing, where they intentionally adjust their camera settings in small increments in case their calculations were not precisely correct.

Heed this advice when taking photographs at night. If you have a particular subject you want to reproduce in digital form, don't rely on taking 'the one perfect shot', but take several photographs in case problems occur with the lighting, or lack thereof.

Remember, you're shooting digitally, which means you can later throw out all the bad photos in your camera's virtual 'trash can', and no one ever needs to know! I can't tell you how many times I've done this, especially when taking late-night shots of the Chicago cityscape in places I couldn't bring a tripod. I may shoot hundreds of shots and only keep a few dozen.

If your digital camera has a special nighttime mode, study your manual and learn how to enable this feature. Perhaps your camera has a button or dial next to a graphic of a half-moon to signify this setting. This works well for some late-night situations.

Forget about using the flash unless you purchase a high-quality accessory flash unit. Flash shoots a burst of light out of your camera and works most effectively when your subject is within a few feet. If your subject is a long way away, your small flash unit will never reach it effectively.

Nighttime photography requires a little extra work out of you and your digital camera. To prevent against mistakes and increase the chance of a spectacular shot, it may be necessary to take the same picture multiple times, adjusting your camera settings slightly to help ensure at least one picture will come out well. The digital camera manual must be studied, as many high-end cameras contain automatic features to help take better photos. And, a natural tendency most people have to use flash must be avoided. By heeding this advice, you can learn to take spectacular nighttime photos.

Andrew Malek is the owner of the MalekTips computer and technology help site at www.malektips.com.
My Outdoor Eyes Photography Blog
Eastern Kingbird At Our Bird Bath On Cape Cod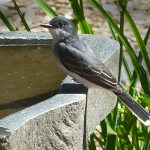 What a treat it was to see this Eastern Kingbird at our bird bath her on Cape Cod. We saw our first eastern Kingbird about a month ago at the Wellfleet Bay Wildlife Sanctuary. We had never seen one before. So now to see one in our own backyard is really cool!  


The Yuccas Are Blooming And Hardy Here On Cape Cod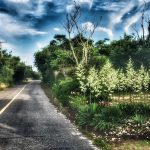 The Yuccas are absolutely stunning this year on Cape Cod. I wonder if it's because of all the moisture that we've had. I saw this "pastoral scene" with the luscious Yuccas on one of my early morning bike rides around to the different beaches. It's amazing what you can see when you're not worried about … Continue reading The Yuccas Are Blooming And Hardy Here On Cape Cod →


Baby Baltimore Oriole In The Bird Bath On Cape Cod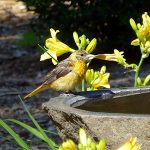 We have so many baby Baltimore Orioles in our yard this summer! It is so much fun. This little guy was still wet from his bath. The coloring of the babies is so different from the adults with almost muted yellow and brown coloring. I loved the yellow Daylilies in the background. Cute little guy, … Continue reading Baby Baltimore Oriole In The Bird Bath On Cape Cod →


Purple Climbing Nightshade Wildflower At Fort Hill On Cape Cod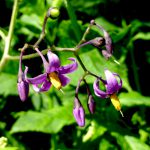 The Climbing Nightshade wildflowers, also known as Bittersweet Nightshade,  are just beautiful at Fort Hill in Eastham on Cape Cod. You can see them on the trail near the Cutting Rock or on the trail leading up to the overlook parking lot. Climbing Nightshade wildflowers are a climbing vine with purple shooting star-shaped flowers of … Continue reading Purple Climbing Nightshade Wildflower At Fort Hill On Cape Cod →


American Copper Butterfly At Fort Hill On Cape Cod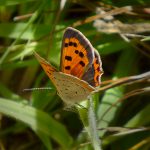 I almost missed this  little American Copper butterfly at Fort Hill on Cape Cod. He was pretty camouflaged until he opened his wings for a second and I saw the beautiful orange color and black spots. American Copper butterflies are small, only about 1″ with orange forewings and about 8 black dots and a black … Continue reading American Copper Butterfly At Fort Hill On Cape Cod →
Gorgeous Orange Day Lilies on Cape Cod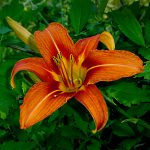 The Daylilies here on Cape Cod are gorgeous this summer. They are growing everywhere and almost seem like a wildflower on the sides of the roads. I loved the coloring of this Daylily…so vibrant a deep orange color! What do you think?