Adventure. Do you actually remember the word? When was the last time you went out for some real adventures? Well, you might be having some wrong perceptions about "adventure", considering your everyday life in this concrete jungle as one big adventure (in a way, you may call it an adventure). Well if that is the case, you need to think twice over it.

Let's get back to the adventures that we define here and see the difference from the real adventures that requires high adrenaline.

Climbing staircase (that too, once in a while, when your elevator is not working) doesn't count as an adventure. Your computer mouse doesn't come under wildlife. Standing under the shower is not same as standing under the waterfall. Wondering in the middle of the hustle and bustle of the city is miles of freshness away from getting lost in the thick lush green jungle.

Mountaineering
Which floor do you live in? Well, you might enjoy the height that you live in but never ever compare that with the heavenly mountains... standing tall and proud. So just pump up your adrenaline, head for a real adventure, feel the nature, defy the law of gravity?

When you are heading for a mountaineering trip, follow the instructions of the guide properly to avoid any mishap. Wear comfortable and convenient clothes, for e.g. Cargo pants, multi-pocketed jackets, good hiking shoes. Carry all the basic accessories but make sure it's not overweighed. But before starting off, get medically examined. Also ensure that at least one or two members of the team have experience of high altitude climbing.

Rock Climbing:
It's always fun to try something new in life. And what can be more exciting than climbing the steep rocky mountain. It might look quite scary, but then what is life without some challenges? Of course, you've seen Tom Cruise in Mission Impossible with all those actions. Well he had a mission. And here, your mission is to feel the thrill.

For such adventure, it's definitely not a cakewalk. First you need to sign up for basics with an experienced instructor. Climbing is an inherently dangerous activity that can result in serious injury, so proper training and equipment before attempting this activity is seriously recommended.

Jungle Safari:
No matter how colorful or fast your life gets in the city, you surely need to escape from it at least once in a year. It's time to feel the nature. It's time you realize that it's not just humans that the world belongs to. Indeed, there's nothing like exploring, making your vision broader.

However, few things are needed to know before taking the wild side. Learn about the place, the culture, the habitat, various types of species found and their behavior. Make sure you are under an experienced guide. Never take chances with wildlife, even the cutest looking species might turn out to be dangerous.

Rafting:
High speed, high energy, high life... just what rafting is all about. Racing with the current. Waters splashing all over you. Not a single word but the sound of water hitting the rocks. Isn't it amazing when your mind is free for once and you feel nothing but yourself, accompanied by the force of nature. But before you head for this mind-boggling activity, enroll with an experienced group that organizes rafting. Make sure that you don't have any physical ailment. Don't take chances if don't know how to swim. And most importantly, the high-powered spirit is all it takes.

Loreal Oliver is an adventurous traveller and pretty crazy too. He travels extensively around the world since the age of 17 years and never gets tired. There is few places unexplored by him and he is always ready for another venture. He loves Photography and reading. For more information and details about adventure travel accommodation directory please visit www.adventuretraveltips.com.
My Outdoor Eyes Photography Blog
Eastern Kingbird At Our Bird Bath On Cape Cod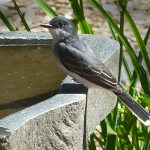 What a treat it was to see this Eastern Kingbird at our bird bath her on Cape Cod. We saw our first eastern Kingbird about a month ago at the Wellfleet Bay Wildlife Sanctuary. We had never seen one before. So now to see one in our own backyard is really cool!  


The Yuccas Are Blooming And Hardy Here On Cape Cod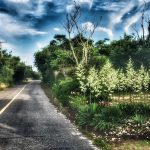 The Yuccas are absolutely stunning this year on Cape Cod. I wonder if it's because of all the moisture that we've had. I saw this "pastoral scene" with the luscious Yuccas on one of my early morning bike rides around to the different beaches. It's amazing what you can see when you're not worried about … Continue reading The Yuccas Are Blooming And Hardy Here On Cape Cod →


Baby Baltimore Oriole In The Bird Bath On Cape Cod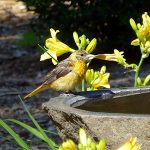 We have so many baby Baltimore Orioles in our yard this summer! It is so much fun. This little guy was still wet from his bath. The coloring of the babies is so different from the adults with almost muted yellow and brown coloring. I loved the yellow Daylilies in the background. Cute little guy, … Continue reading Baby Baltimore Oriole In The Bird Bath On Cape Cod →


Purple Climbing Nightshade Wildflower At Fort Hill On Cape Cod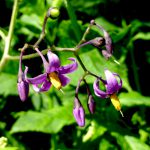 The Climbing Nightshade wildflowers, also known as Bittersweet Nightshade,  are just beautiful at Fort Hill in Eastham on Cape Cod. You can see them on the trail near the Cutting Rock or on the trail leading up to the overlook parking lot. Climbing Nightshade wildflowers are a climbing vine with purple shooting star-shaped flowers of … Continue reading Purple Climbing Nightshade Wildflower At Fort Hill On Cape Cod →


American Copper Butterfly At Fort Hill On Cape Cod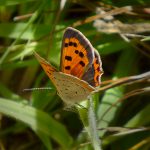 I almost missed this  little American Copper butterfly at Fort Hill on Cape Cod. He was pretty camouflaged until he opened his wings for a second and I saw the beautiful orange color and black spots. American Copper butterflies are small, only about 1″ with orange forewings and about 8 black dots and a black … Continue reading American Copper Butterfly At Fort Hill On Cape Cod →
Gorgeous Orange Day Lilies on Cape Cod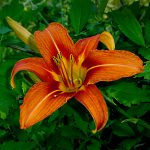 The Daylilies here on Cape Cod are gorgeous this summer. They are growing everywhere and almost seem like a wildflower on the sides of the roads. I loved the coloring of this Daylily…so vibrant a deep orange color! What do you think?