Bicycles are a great way to get around quietly and quickly in an urban area.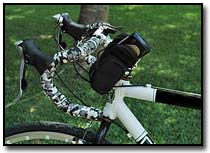 It is very easy for me to go to a place, get off my bicycle, and take photos. I don't have to worry about parking a car.

Taking photos from a bicycle has opened up new areas for me. I get around the hike and bike trails, the short cut routes not open to cars, bridge sidewalks, and parking deck roofs.

I keep a point and shoot camera in a handlebar bag or the back pocket of my bicycle jersey for easy access. I am ready when an opportunity presents itself or when I am out to take specific pictures.

After a little practice, I can get my camera out, take a shot,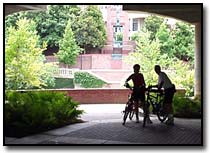 and put it away while stopped at a light.

On a road with no traffic, I can use my camera with one hand while I keep the other one on the handlebar. I take the picture without looking through the viewfinder, just point and shoot.

Bicycles are a great way to meet people on the street and take their picture. Sometimes I ask people to take a picture of me on my bicycle. Usually, whoever I talk with will tell me about something cool to photograph nearby.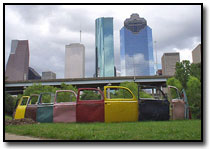 Sometimes I carry a bigger camera, an SLR, in my Camelback. While it is not as spontaneous as a point and shoot, I can still take advantage of traveling by bicycle.


Best of all, the bicycle shops I stop in like to hang up my photos of people having fun with bicycles.

My Outdoor Eyes Photography Blog
Lobster Boat Moored In Nauset Marsh On Cape Cod
I've never seen a larger boat like this lobster boat moored in Nauset Marsh, so I was a little surprised to see it moored in the middle of the channel. The channel must be deep enough to allow a bit this size to moor there. I took this photograph from Fort Hll looking out toward … Continue reading Lobster Boat Moored In Nauset Marsh On Cape Cod →


White Eastern Starflower At Hemenway Landing On Cape Cod
The Eastern Starflowers are blooming all over Cape Cod and are gorgeous. Each Eastern Starflower has 2 delicate flowers with 5-9 pointed petals on a slender stem with shiny leaves. The flowers are are small, 1/2″ to 3/4″ and bloom in May and June in cool, dry woods. Pretty, don't you think?


It's Kayaking Time At Boat Meadow On Cape Cod!
It was so much fun to see these kayakers out on Boat Meadow Creek enjoying the beautiful day. I'm not sure what the temperature of the bay is, but I know it is a lot warmer than the ocean. There were people swimming there a few days ago. Summer is almost here!