Canyonlands has 3 entirely different areas: The Needles, The Maze and The Island in the Sky. Each of the sections are entirely different. We did not go into the Maze area as we didn't have a 4 wheel drive and we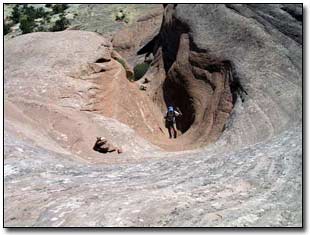 didn't have enough time. The Maze is for serious hikers and adventurers. The road into the Needles is long (about 45 minutes) so allow extra time.

The Needles is definitely a great place for camping and hiking. The camping sites are on a first come, first serve basis. Some of the sites have running water, raised camping areas, places to shower, sinks to wash your utensils/cooking gear, bathrooms, etc. It is a first class area and I believe it costs between $5-$10 a day. During the whole day we were there, we only saw about 10 cars and about 6 people.

The trail we hiked on was the Old Squaw Trail. During the whole 6 hour hike through the canyons we did not see a single person. The temperature was quite hot (about 100 degrees), but it did not really feel hot at all. The start of the hike is quite steep. You have to pull yourself up the red rock with a chain bolted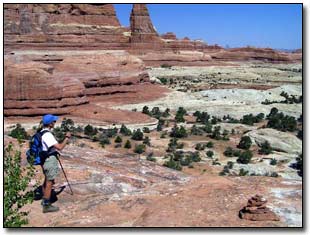 into the rocks. Once you get past that point, you have to go across high rock ledges that have a steep drop off. If you get past the first 15-20 minutes, you will be on your way.

We heard coyotes when we started our hike and the whole hike was awesome. We hiked on the desert floor with canyons all around us.

At the halfway point, there was a huge canyon wall to climb up with only your boots to hold you up there. One slip and you would fall down the face of the rocks... never to walk again. We were able to get to about 30 feet from the top and the rest was just too scary. We didn't know what was on the other side and we knew if we got on top, we wouldn't be able to come back the same way we just went up. So we turned around, went down and had lunch. We returned the same way we started and it was still a great hike. Sometimes when you go in a different direction, the hike looks entirely different.

There are some easier, shorter hikes and you can select any type of hike to fit your needs. Be sure to bring enough water (we brought 100 ounces of water each) and be sure to bring something that you can wet and put over your head underneath your cap to protect yourself from the sun. Wear plenty of suntan lotion as you will need it.

Hope you have a great time hiking Canyonlands National Park in the needles section.


Click the author's gallery image on the top of the page to view the author's photographs.

My Outdoor Eyes Photography Blog
Fort Hill Tree Art On Cape Cod
With all of the windy storms that we've had in the past few months, there are a lot of trees and branches strewn about at Fort Hill and everywhere. Someone decided to make some of the trees and branches and and vines into "tree art." How clever! It looks pretty cool, don't you think? And … Continue reading Fort Hill Tree Art On Cape Cod →


This Wild Turkey Is Loving Our Birdseed On Cape Cod
This big ole Turkey comes around every day now to feast on the seeds  that the other birds drop on the ground while they are feeding. He's no dummy! He gets free food with very little effort and he sure does love our yard! Ha!


Gorgeous Waves At Coast Guard Beach On Cape Cod
The wind was blowing and the waves were kicking up on Coast Guard Beach, part of the National Seashore. It was finally warm enough that you didn't need a hat and mittens! Is spring finally here?