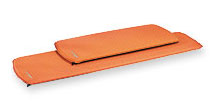 In purchasing equipment for the outdoors, I always use the same thought process. How often am I going to upgrade my equipment based on the new radical improvements that the manufacturer will come out with? How long before my existing equipment will become obsolete and I will have to replace it? How long will it be before I have a disadvantage with my existing equipment? When the time came to choose a ground pad, I decided that I would choose the best ground pad that I could afford based on the use of the ground pad.

There are many ground pad features to consider when choosing a ground pad and all the options available are important.

The ground pad provides both insulation and cushioning for your comfort. If you don't use a ground pad, the sleeping bag will not perform up to the rated specifications. Some ground pads have an 'R' value rating that indicate their insulation properties.

What size, width and height do I need?
Ground pads lengths are available from 48" - 72", widths are available from 20" - 26" and heights are available from 1/2" - 2". There is a balance between comfort, packing size, seasonal use and weight that makes your decision difficult. What seasons are you going to use the ground pad? How much comfort do you need? What size do you need in relation to your body size? Can you use a shorter length than your body length? Do you need to save space in packing? Do you need a lightweight pad? The insulation qualities of a ground pad become especially important when camping in winter.

What size do I need when the ground pad is packed? Make sure you are aware of the size that the ground pad rolls or folds up to. If you only have a little room in your backpack, kayak, canoe, etc., make sure the pad will fit when packed.

What type of ground pads are available?
The most common ground pad types are:
Air Mattresses - The air mattress is the most comfortable but are seldom used for backpacking any more. The mattress, when deflated, is quite compact and provides adequate insulation in warmer temperature. But the mattress is subject to leaks or punctures and doesn't perform as well compared to all the other types of ground pads.
Closed Cell Foam - Do you have a lot of space to pack the ground pad? If you don't have extra space, this pad is not for you. The ground pad is bulky and only provides a minimal amount of cushioning. The closed cell foam ground pads are very lightweight, the warmest and will not soak up water.
Open Cell Foam - Do you have a lot of space to pack the ground pad? If you don't have extra space, this pad is not for you. This ground pad provides most of the warmth of a closed cell foam pad and more cushioning. But the open cell foam ground pads are bulky, heavy and will absorb water.
Self Inflating - These ground pads are the most popular because they are compact, provide good insulation and are as comfortable as an air mattress. The self inflating ground pads do not have to be blown up and they provide the same insulation as an open cell foam pad. They are heavier than the close cell pad. The self inflating ground pad can be used with a stuff sack to make the packed self inflating ground pad even smaller.

Never purchase a ground pad without trying it out and always make sure the pad will fit easily into your tent (along with other ground pads if more than one person is in your tent). Choose the right ground pad based on how you are going to use it.

Don't forget to learn how to maintain your ground pad correctly because incorrect methods might damage your ground pad and choose a ground pad wisely.

My Outdoor Eyes Photography Blog
Pretty Eastern Tailed Blue Butterfly At Fort Hill On Cape Cod
I saw this pretty little Eastern Tailed Blue Butterfly while we were hiking at Fort Hill the other day. It  is a small blue butterfly with a wingspan of 3/4-1″.  Above it is blue with a darker border and underneath it is gray with black spots and a little orange patch. So pretty and delicate, don't … Continue reading Pretty Eastern Tailed Blue Butterfly At Fort Hill On Cape Cod →


Great Crested Flycatcher In Our Backyard On Cape Cod
It was very cool when I got my binoculars and saw this Great Crested Flycatcher sitting on a branch in our backyard. I kept hearing this very distinct bird call for a couple of days but didn't know what it was and knew I hadn't heard it before. I ran in and got my camera … Continue reading Great Crested Flycatcher In Our Backyard On Cape Cod →


Stunning White Pheasant Eye Narcissus Wildflower Here On Cape Cod
I saw this beautiful white wildflower along one of the trails here on Cape Cod and did some research to find out that it is a Pheasant Eye Narcissus. I had never seen one before. Have you? I thought the yellow and red center was just exquisite; what do you think?