Sometimes one can't get outdoors but still want to take pictures of animals and birds.

For instance, sometimes I can't move too well so I'm confined to a chair by the window. I have my camera near me on a table, bird feeders about 10 feet from the window, and a stump set up 3 feet from the window. Sometimes I will have the camera on a tripod, with a remote cord, set up near the window, prefocused. When a bird lands on the stump and I know it is in the prefocused spot, I start taking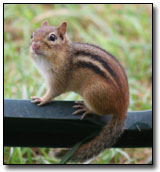 pictures with the remote cord. Having a camera take can take 5 frames helps, because sometimes one can get an unexpected good shot or get one out of 5 good shots. It is not often that I can get 5 good shots in a row because the bird does move around and end up with a shot with no bird in it, if he is so quick and flies off before the shot is fired.


I don't think one has to be outdoors to get outdoor shots.




Click the author's gallery image on the top of the page to view the author's photographs.

My Outdoor Eyes Photography Blog
Three Ponds Hike in Orleans On Cape Cod
We've had some gorgeous days for fall hiking here on Cape Cod. This Three Ponds hike is really pretty as it takes you along the lake's edges and through the woods. It is a perfect hike for the whole family! Phil took this photograph as I was enjoying the beautiful fall day along the trail, … Continue reading Three Ponds Hike in Orleans On Cape Cod →


Lots Of Arctic Terns On The Sandbar On Cape Cod
The sandbar off of Coast Guard Beach, part of the National Seashore in Eastham, was filled with Arctic Terns. They would stand there for a bit and then all fly off and then all fly back again. I'd never seen so many congregate in one space like that. It was pretty cool. Maybe they were migrating … Continue reading Lots Of Arctic Terns On The Sandbar On Cape Cod →


Salt Pond Trail In Eastham On Cape Cod Was So Pretty
The trail along the Salt Pond by the National Seashore Visitor's Center in Eastham was so pretty this fall day. You never know what you might see. The sun was shining brightly on Nauset Marsh. We even saw a few Cabbage White butterflies still flying about.